Maria Nordman
04 Sep 2011 - 20 May 2012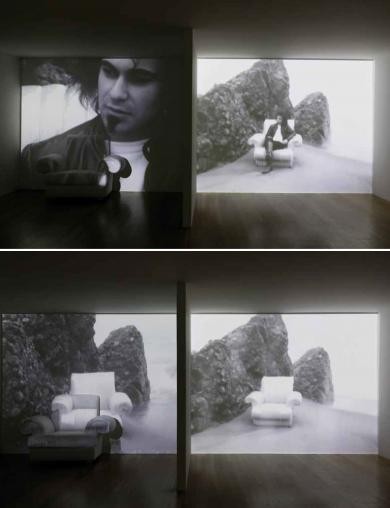 Maria Nordman
Filmroom: Smoke, 1967–Present
Photo: Courtesy of the Fundação de Serralves
Museu de Arte Contemporânea, Porto, Portugal.
MARIA NORDMAN
Filmroom: Smoke, 1967–Present
4 September, 2011 – 20 May, 2012

Shot on a beach in Malibu in 1967, this film features two professional actors, a man and a woman, who were asked to be present at the given location at a certain time. No script was provided to them but the artist gave them specific props: a cigarette lighter, a box of cigarettes, and a chair. "The Pacific ocean and the sun are also actors in the scene," Nordman says. Two cameras—one static on a tripod, the other one following the movement of the actors—recorded the situation. The films are shown side by side with a wall in between that creates three defined spaces. The room to the left features the film shot with a hand held camera and the chair used as a prop in the film. The room to the right loops the film made with the fixed camera. There is a third room where the viewer is able to look at both screens, witnessing a situation that keeps unfolding in time and space.