New Topographics
25 Oct 2009 - 03 Jan 2010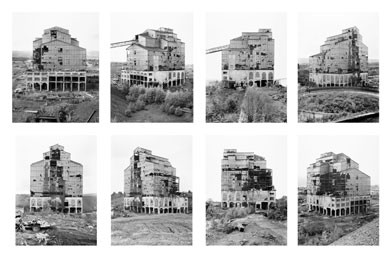 Bernd and Hilla Becher (Germany, 1931-2007 and b. 1934)
Loomis Coal Breaker/Wilkes Barre, Pennsylvania, 1974
gelatin silver prints
8 prints; each 16 x 12 in.
lent by Hilla Becher in association with Die Photographische Sammlung/SK Stiftung Kultur, Cologne © Hilla Becher, 2009.
NEW TOPOGRAPHICS: Photographs of a Man-Altered Landscape

October 25, 2009–January 3, 2010

A restaging of the landmark exhibition first seen in 1975 at the International Museum of Photography, George Eastman House. "New Topographics" signaled the emergence of a new photographic approach to landscape: romanticization gave way to cooler appraisal, focused on the everyday built environment and more attuned to conceptual concerns of the broader art field. More than two-thirds of the photographs by the original ten participants—Robert Adams, Lewis Baltz, Bernd and Hilla Becher, Joe Deal, Frank Gohlke, Nicholas Nixon, John Schott, Stephen Shore, and Henry Wessel, Jr.—are displayed. An accompanying presentation of works by influential photographers and thinkers offers historic context, including Timothy O'Sullivan, Walker Evans, Ed Ruscha, Robert Smithson, and Dan Graham, as well as architect team Robert Venturi and Denise Scott Brown, with their publication Learning from Las Vegas (1972), an ode to the "ugly and ordinary." A final video installation by the Center for Land Use Interpretation (CLUI), commissioned by LACMA, explores oil's central role in the development of the American landscape. CLUI's contemporary response to the legacy of "New Topographics" suggests an ongoing concern for man's use of the land.

Curator at LACMA: Edward Robinson, Photography.