The Serial Impulse at Gemini G.E.L.
11 Sep 2016 - 02 Jan 2017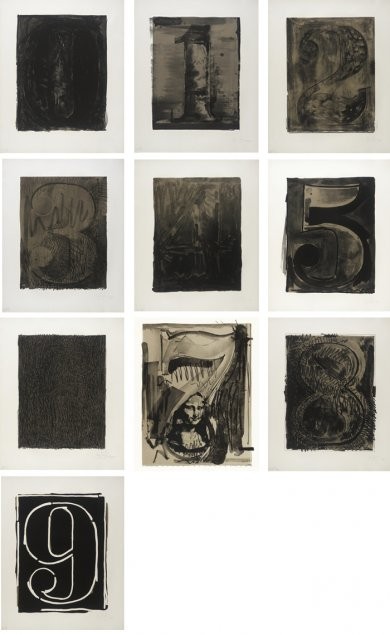 Jasper Johns
Black Numeral Series (0–9), 1968/70
Los Angeles County Museum of Art, gift of the 2006 Collectors Committee, art © Jasper Johns and Gemini G.E.L./Licensed by VAGA, New York, NY, published by Gemini G.E.L.
THE SERIAL IMPULSE AT GEMINI G.E.L.
11 September 2016 – 2 January 2017

Since 1966, the renowned Los Angeles print workshop Gemini G.E.L. has been a vital and innovative force in fine-art printmaking, publishing the work of internationally celebrated artists.

For centuries, artists have produced series to develop thematic, narrative, literary, and formal imagery in a sequential manner. This practice was especially prevalent in the 1960s as conceptual, minimalist, and pop artists adopted the serial format to explore the potential of systems and structures related to such notions as rational order and mass production. Artists at Gemini G.E.L. have continued to engage a variety of approaches to serial production, resulting in some of the workshop's most significant publications. The Serial Impulse at Gemini G.E.L. presents a selection of these notable projects, many of which have rarely been displayed in their entirety.

LACMA premiered Gemini's very first edition—a series of prints by Josef Albers—and has since collected and exhibited their editions. On the occasion of Gemini's 50th anniversary, The Serial Impulse showcases 15 print series, from seminal works by Jasper Johns, Robert Rauschenberg, and Frank Stella to more recent series by Richard Serra and Julie Mehretu.

The exhibition is organized by the National Gallery of Art, Washington, in association with the Los Angeles County Museum of Art. Support is provided in part by Laura S. Maslon. Additional funding is provided by Linda Poole Maggard, Jonathan Novak Contemporary Art, Noriko Fujinami, Freya and Mark Ivener, Linda Janger, and Ben Shaktman in memory of Dudley Moore.

All exhibitions at LACMA are underwritten by the LACMA Exhibition Fund. Major annual support is provided by Kitzia and Richard Goodman, with generous annual funding from Louise and Brad Edgerton, Edgerton Foundation, Emily and Teddy Greenspan, Jenna and Jason Grosfeld, and Lenore and Richard Wayne.