Variations: Conversations in and Around Abstract Painting
24 Aug 2014 - 22 Mar 2015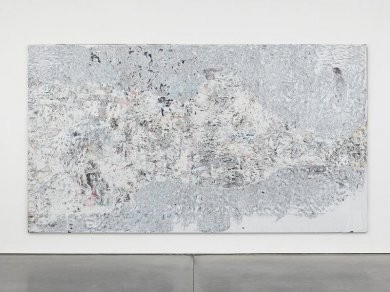 © Mark Bradford
Shoot the Coin, 2013
mixed media on canvas
Purchased with major funding provided by Andy Valmorbida, with additional support from Sotheby's. Photo: Ben Westoby. Courtesy White Cube.
VARIATIONS: CONVERSATIONS IN AND AROUND ABSTRACT PAINTING
24 August 2014 – 22 March 2015

In an attention-compromised age when images are instant and prevalent, abstract painting serves as a contradiction, acting as a conduit for the mark of the original, individual artist. While most of the work in the exhibition has been recently created and acquired, additional paintings culled from LACMA's collection illustrate how artists have reanimated techniques and forms using other sources that are appropriated from popular culture, photography, and collage, essentially creating a new variation of abstract painting.

Variations: Conversations in and Around Abstract Painting presents 29 artists whose work reflects the language and style of abstraction: Markus Amm, Mark Bradford, A.K. Burns, Aaron Curry, Theaster Gates, Mark Grotjahn, Iva Gueorguieva, Sergei Jensen, Rashid Johnson, Jennie C. Jones, Rachel Lachowicz, Dashiell Manley, Julie Mehretu, Dianna Molzan, Albert Oehlen, Alexandra Olson, Laura Owens, Anthony Pearson, Howardena Pindell, Gerhard Richter, Sterling Ruby, Analia Saban, Maaike Schoorel, Amy Sillman, Diana Thater, Lesley Vance, Mary Weatherford, Lisa Williamson, and Christopher Wool.

This exhibition was organized by the Los Angeles County Museum of Art. Support is provided by Juliet McIver and Robert Schafer.