Ashley Bickerton
06 May - 25 Jun 2011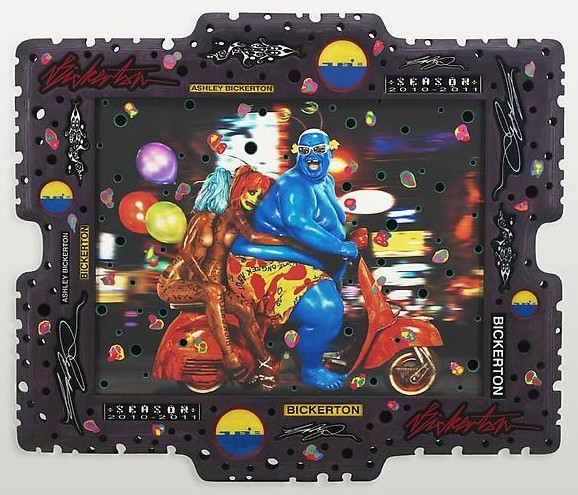 © Ashley Bickerton
Red Scooter Nocturne, 2010 - 2011
acrylic, digital print and plastic laminate on wood
65.5 x 76.75 x 5 inches
166.4 x 194.9 x 12.7 cm

ASHLEY BICKERTON
Nocturnes
6 May – 25 June, 2011
Lehmann Maupin Gallery presents Nocturnes, an exhibition of new works by Ashley Bickerton on view 6 May – 25 June, 2011 at 540 W. 26th Street.
In Nocturnes, Bickerton's third solo exhibition at Lehmann Maupin, the artist revisits mankind's antithetical attraction and repulsion to the grotesque, exotic, and sexual. Whereas previous works depicted abundant worlds of health, happiness, family, and cohesion, Bickerton has become disillusioned with the brilliance and wholesomeness that colored these preceding works, now drawing inspiration from the phrase 'twisting and flapping in the neon wilderness'. This new body of work, which includes paintings and c-prints, reveals the sordid gutters of paradise; a fractured world illuminated by neon and laden with lost boys, bloated sex tourists, escapist degenerates and opportunists. In select works, this tawdry and bent environment, rich with human longing and broken promise, serves as a playground to Bickerton's signature blue man, who reappears as an explosive madman on a white-knuckle tear through the world, gluttonously devouring all that is adrenal or sensual. Others frame packs of lost boys running amok amidst a blur of neon bars and go-go clubs, provoking the viewer to question their place in the setting, whether they are fixtures of the back-alley debauchery, or simply mischievous children playing in the streets. In his transition from sunlight to darkness, Bickerton sees one no less alluring or lustrous than the other, offering only an analytic account of the dichotomous world.
From 31 May 2011, a lavishly illustrated career survey of Bickerton's work will be available, published by Other Criteria, providing an unprecedented insight into the artist's life and art. Throughout this eclectic monograph, the artist's own commentary is interwoven with text from additional contributors, including essays by fellow artist Jake Chapman, novelist Nick McDonell, art historian Abigail Solomon-Godeau, curator Dominic Molon, and the artist's father, the noted linguist-anthropologist Derek Bickerton. Also included is an interview with Bickerton conducted by Hans Ulrich Obrist, co-director of London's Serpentine Gallery, presented in the form of a comic novel with illustrations by graphic artist Ignacio Noé. This book, designed by Stefan Sagmeister in close collaboration with the artist, is a striking work of art in its own right, featuring a fold-out poster, die-cut pages, and more than 300 colour illustrations. The limited edition is signed, has hand carved pages and is enclosed in a Balinese carved wooden slipcase. It also includes a signed print. Prices for the book start at £ UK£250/US$375/CAN$430 and UK£2500/US$3750/CAN$4300 for the limited signed edition.
Ashley Bickerton
Ashley Bickerton was born in the West Indies in 1959. He studied at the California Institute of the Arts, graduating in 1982, and continued his education in the Whitney Museum Independent Studies Program in New York. He was a founding member of the "Neo-Geo" movement and a seminal figure in the East Village scene in New York. Over the last twenty-five years Bickerton has exhibited extensively around the world, including recent exhibitions such as the "East Village USA" at the New Museum of Contemporary Art in New York; "Collecting Biennials", at the Whitney Museum of American Art; "Skin Fruit: Selection: Selections from the Dakis Joannou Collection at the New Museum of Contemporary Art, "Law of the Jungle" curated by Tiago Carneiro da Cunha at Lehmann Maupin all New York; and "Pop Life: Art in a Material World" at the Tate Gallery, London. His artwork can be found in many museum collections including the Museum of Modern Art, New York; the Guggenheim Museum, New York; The Whitney Museum of American Art, New York; the Tate Gallery, London; and the Stedelijk Museum, Amsterdam.
Other Criteria
Launched in 2005, Other Criteria is a publishing company owned by Damien Hirst and run by CEO Hugh Allan, with creative director Jason Beard. Evolving organically from their website, the company opened shop fronts in London on New Bond St (October 2008) and Hinde St (February 2009) as well as a floor in Gagosian's new retail space on Madison Avenue in New York. Collaborating closely with established and emerging artists, the store prides itself on displaying "great quality art by the best artists and making it available to everyone."
www.othercriteria.com