Shadow
28 Jun - 03 Aug 2007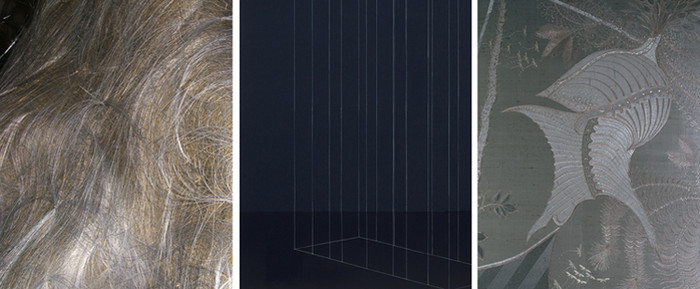 Pictured, left to right: Petah Coyne, Untitled #720 (detail), 1992; Kate Shepherd, Tall Black Cage with One Sagging Shelf (detail), 2006; Angelo Filomeno, Coat of Arms with a Skull (after Albrecht Durer engraving) (detail), 2006 / All images courtesy Galerie Lelong, New York
Shadow, a group show with works by Richard Artschwager, Petah Coyne, Angelo Filomeno, Andy Goldsworthy, Catherine Lee, Dorothy Napangardi, and Kate Shepherd will open to the public on June 28, 2007. The works in the exhibition, while differing in medium, date and form, all share an interest in shifting impressions of light, shadow and fluidity. The exhibition will remain on view through August 3.

Richard Artschwager is one of the iconic post-war American artists. His heterogeneous body of work draws from eclectic sources and investigates unusual materials. On view is the trompe l'oeil Dame Redend (Speaking Woman), composed mainly of rubberized hair. Petah Coyne is represented by an earlier work from the '80s. Known for richly layered installations with wax, silk flowers, and taxidermy, among other materials, her sculptures have an anthropomorphic presence. The work featured in Shadow is directly figural, and its use of steel and organza is unique among the artist's works. Angelo Filomeno contributes a monumental painting, entitled Coat of Arms with a Skull (after Albrecht Durer engraving). The painting is made with painstaking embroidery of silver thread and Swarovski crystals, which allow the image to appear and disappear. Andy Goldsworthy scratches a white line across grey slate, combining drawing and sculpture in the work Drawn Slate. The grid-based "mark" paintings made by Catherine Lee in the '70s also relate to the line and underlie her interest in rhythm and gesture, still a hallmark of her contemporary sculpture. Made on raw linen attached to the wall with grommets, the paintings are a calligraphic record of her working process. From the Northern Territory of Australia, Aboriginal artist Dorothy Napangardi will show two paintings of her delicate and intimate patterns of lines and dots that evoke journeys and the forging of paths. Finally, Kate Shepherd's featured painting interprets the building as cage, her line shifting between actual and imagined structures.

On view in the small gallery is Sean Scully: Aran Islands, a portfolio of 24 black-and-white photographs taken by the artist in the group of islands off the west coast of Ireland. Renowned primarily for his paintings, Scully's photography is an ongoing area of his practice and exploration. Scully visited the islands in 2005 and was drawn to the tightly clustered stone walls that meander over the land. Known for his usage of color, he chose black-and-white film for the Aran Island works, emphasizing the structure and surface. The photographs on view appear in the book Sean Scully: Walls of Aran, published in the UK in May by Thames and Hudson and to be released in the U.S. this September.