Lee Ufan
25 Mar - 09 May 2015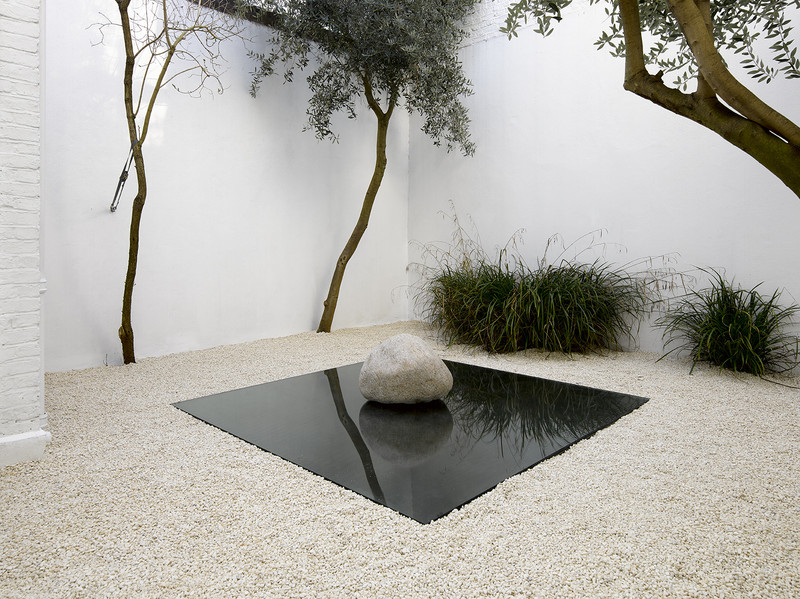 © Lee Ufan
Relatum - Rest
Gravel, glass, steel, stone
Glass 250cm x 250cm x 2cm
Steel 250cm x 250cm x 2cm
Stone 70cm x 70cm x 70cm
LEE UFAN
25 March – 9 May 2015

This exhibition brings together a body of new work by Lee Ufan, famed as a founding member of the Japanese Mono-ha and Korean Dansaekhwa groups of the late 1960s and early '70s – both important modern and parallel art movements which have only relatively recently been feted by major shows in the West. Although his practice is widely regarded as minimalist, Lee believes in utilising an economy of gesture or representation in search of the maximum possible effect or resonance. His most recent series of Dialogue paintings and watercolours are economically composed of singular sweeps of paint, each built up over an extended period of time through an accretion of smaller strokes. The brush gradually unloads, the mark lightening towards immateriality as he drags it across the surface of the canvas or paper, each repetition being ritualistically controlled by Lee's held breath. The incorporation of strong colours – blue, red or an earthy green – to the artist's traditional grey palette, marks a decisive shift away from the intangibility of grisaille towards elements or references in the real world, perhaps harking back to an early series of fluorescent spray-painted works by Lee from 1968, entitled Landscape. The four large-scale paintings at Lisson Gallery combine together to form a chapel-like environment within the main atrium, surrounding the viewer with gestures that require time and concentration to fully appreciate.

The finely crushed stone that Lee mixes with his paints physically connects his two-dimensional works to the three-dimensional sculptures, which here includes an installation of a large rock placed in front of a blank virgin canvas, each element willing the other into a relationship. In contrast with his carefully wrought paintings, this work consists of objects to which, pointedly, no artistic action has been applied, offering instead a space for the contemplation of non-productivity and for a rare moment of silent, solo interaction with a work of art. Outside, in the interior courtyard, Lee has placed another large stone onto a sheet of glass and manmade steel plates, which themselves are set adrift within a sea of white marble chips. Such meticulously balanced, site-specific interventions achieved their apotheosis last year in Lee's spectacular presentation in the gardens of Versailles, for which he created a bridge, a monumental arch, a tomb and a wall of cotton among other major sculptures. Ultimately, whether at a monumental or domestic scale, it is Lee's hope that his work might "lead people's eyes to emptiness and turn their eyes to silence," (taken from his collected writings, The Art of Encounter, 2008).