Wael Shawky
31 Jan - 08 Mar 2014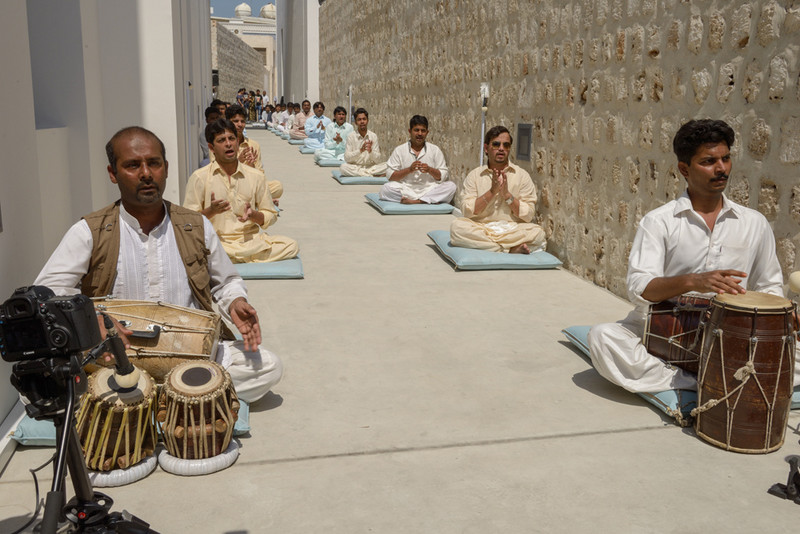 © Wael Shawky
Dictums: 10:120
Sound work, 2013, 23 mins 40 seconds
Documentary, 2014, Silent, colour video, 6 mins 2 seconds
WAEL SHAWKY
Dictums
31 January – 8 March 2014

One of the most powerful and urgent voices to emerge from the Middle East in the last decade, Wael Shawky explores systems of belief and reinterprets faith, myth and history through the lens of the modern media. At Lisson Gallery, Shawky presents a new work, Dictums: Manqia I (2014), in which herds of prize black camels are driven across the desert, perhaps en route to one of the prestigious camel parades or beauty pageants that are held in the Gulf region, known as mazaynas. These rare, dark breeds of camel are coveted across the Arab world, with those winning 'best in show' often being traded for astronomical sums and even appearing on their own dedicated television channels. Having previously worked with the indigenous cultures and traditions of nomadic Bedouin tribespeople, Shawky similarly charts patterns of physical, economic and intellectual migration in this video, shot by the artist on location near Abu Dhabi.

The overarching title of his exhibition, Dictums, refers to a live performance originally produced for the Sharjah Biennial in 2013 in which Shawky assembled 30 workers of primarily Pakistani origin, to clap and chant through a recital by two professional musicians or qawwals, trained in singing traditional Sufi ballads. The words to their song were culled from a curatorial statement of the biennial and translated into Urdu, creating a hypnotic, harmonic, if largely indecipherable, rendition of the kind of opaque artistic language generally associated with contemporary art discourse. As with all of Shawky's films, this piece combines astute observation of its subject matter with a keen sense of institutional critique.

Just as the full title of this sound piece (for the first time to be accompanied by a new documentary film), Dictums 10:120, recalls the chapters of a holy text, Shawky has combined the sacred and profane in previous works, such as his early video Cave (2006), in which he walks around a brightly lit supermarket breezily reciting a surah or chapter of the same name from the Koran.

Not only does Shawky's work straddle documentary filmmaking, performance, animation, music and even puppetry, as can be seen in his major exhibition, al-Qurban, at the Serpentine Galleries (until 9 February), his show at Lisson Gallery also includes new drawings, as well as wall-based vitrines displaying metal plaques – of the kind found adorning transportation trucks and food carts in Pakistan – which have been produced in Karachi. The plaques, arranged in minimal configurations and leaning against an asphalt felt layer, signal the transposition of a specific decorative taste into the framework and discourse of contemporary art. Dictums is the second in the Lisson Gallery's annual series of political film projects, which began in 2013 with a solo show of Mark Boulos entitled No Permanent Address.

About the artist

Based on extensive periods of research and enquiry, Wael Shawky's work tackles notions of national, religious and artistic identity through film, performance and storytelling. Whether instructing Bedouin children to act out the construction of an airport runway in the desert or organizing a heavy metal concert in a remote Egyptian village, Shawky frames contemporary culture through the lens of historical tradition and vice versa. Mixing truth and fiction, childlike wonder and spiritual doctrine, Shawky has staged epic recreations of the medieval clashes between Muslims and Christians in his trilogy of puppet animations – titled Cabaret Crusades: The Horror Show Files (2010), The Path to Cairo (2012) and The Secrets of Karbala (2014) – while his two-part film, Al Araba Al Madfuna (2013), uses child actors to recount poetic myths, paying homage, rather than mere lip-service, to the important narratives of yesteryear.

Wael Shawky was born in Alexandria in 1971 where he lives and works. Recent solo exhibitions include Serpentine Galleries, London (2013-14); KW Contemporary Art Institute, Berlin (2012); Nottingham Contemporary (2011); Walker Art Center, Minneapolis (2011); Delfina Foundation, London (2011) and Cittadellarte – Fondazione Pistoletto, Biella (2010). He has participated in the 11th Sharjah Biennial (2013); Documenta 13, Kassel, (2012); the ninth Gwangju Biennial, (2012); SITE Santa Fe Biennial (2008); Istanbul Biennial (2005); and the 50th Venice Biennale (2003). Recent awards include the Award for Filmic Oeuvre created by Louis Vuitton and Kino der Kunst (2013); the Abraaj Capital Art Prize (2012), the Schering Foundation Art Award (2011), as well as The International Commissioning Grant and an award from the Lower Manhattan Cultural Council, in 2005. Shawky founded the educational space MASS Alexandria in 2010 and is represented by Sfeir-Semler Gallery in Beirut and Hamburg.