Louisiana On Paper: Josef Albers
01 Jul - 28 Aug 2011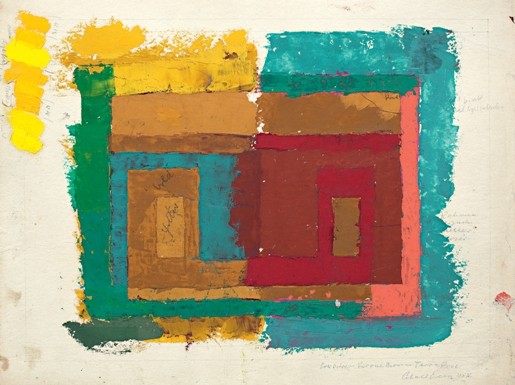 Josef Albers
Study for a Variant / Adobe (I), ca. 1947
Oil on blotting paper with pencil
24.1 × 30.6 cm
The Josef and Anni Albers Foundation
© 2010 The Josef and Anni Albers Foundation/VG Bildkunst, Bonn/Artists Rights Society, New York.
LOUISIANA ON PAPER: JOSEF ALBERS
1 July – 28 August 2011

"I want to imbue others with my delight in the endless possibilities for new colour experiences."

The presentation of Josef Albers is something of a sensation, since it is showing a large number of works that have never been shown before. This exhibition is – also for Louisiana's visitors – a chance to experience a new side of an old acquaintance. Albers was a designer in the Bauhaus context and is known for his abstract paintings – his 'squares'. But what he himself called his "obsession with colour" led him from 1940 on to a number of experiments with color on paper, where he investigated color and abstract form in both sketches and more finished works in the smaller format.

The exhibition, which will be showing 80 works, has been created in collaboration with Josef Albers Museum Quadrat, Bottrop and Staatliche Graphische Sammlung, Munich. Louisiana is one of the venues in a major tour that includes a. o. the Gulbenkian Museum in Portugal and the Morgan Library in New York.

Louisiana – on paper is a series of small exhibitions at Louisiana, scheduled to be shown in the course of 2011. The exhibitions are curated by director of the Louisiana Museum of Modern Art, Poul Erik Tøjner, and focus on graphic works and drawings. The first artist in the series was American Al Taylor (1948-1999), now followed by German Josef Albers (1888-1976). Both artists are represented in Louisiana's collection. Later in the year the series continues with the presentation of Vija Celmins.