Pawel Althamer
12 Dec 2010 - 20 Feb 2011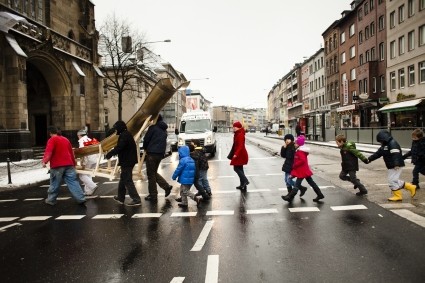 Bildunterschrift: Pawel Althamer und seine Assistenten Jacek Adamas und Jan Helda bringen mit Kindern der Katholischen Grundschule Passstraße die Rutsche vom Ludwig Forum in die Kirche St. Elisabeth. Foto: Alice Smeets (14.12.2010)
Kunstpreis Aachen 2010
PAWEL ALTHAMER
12 December, 2010 - 20 February, 2011

Gute Nachrichten für den Kunststandort Aachen: Die Skulptur des Preisträgers fürden Kunstpreis Aachen 2010 Pawel Althamer wird den Aachenern auch nach der Finissage der Ausstellung am Ludwig Forum (20. Februar 2011) noch erhalten bleiben. Bruder Lukas Jünemann, Pfarrer der St. Elisabeth Kirche sprach sich dafür aus, die eigens für seine Kirche entwickelte und dort ausgestellte Arbeit des polnischen Künstlers bis auf unbestimmte Zeit an ihrem derzeitigen Ausstellungsort zu belassen. Die Installation – eine Rutsche für Kinder in Gestalt einer Kanzel – wird Kirchenbesuchern somit an ihrem angestammten Platz im Hauptschiff der Kirche noch so lange zugänglich sein, bis eine Partner-Kirche in Polen gefunden wurde, die Althamers Arbeit im Anschluss in den eigenen Räumlichkeiten präsentieren wird. Die Suche nach geeigneten Gotteshäusern in der polnischen Heimat des Künstlers läuft derzeit weiter.

Das Ludwig Forum begrüßt die Entscheidung sehr und bietet zur Finissage am letzten Ausstellungstag der Pawel-Althamer-Schau noch einmal allen die Gelegenheit zu persönlichen Gesprächen mit dem Künstler und den an der Ausstellung Beteiligten. Natürlich darf auch gerutscht werden!

Neben der Installation in der Aachener Kirche St. Elisabeth zeigt die Ausstellung des Ludwig Forum noch drei weitere neue Arbeiten des Künstlers: Der Film "Der Goldene Ritter" und zwei gleichnamige Skulpturen ("Golden Knight" bzw. "Der Goldene Ritter") sind noch bis einschließlich Sonntag, 20. Februar 2011 im Ludwig Forum zu sehen.

Pawel Althamer, born 1963 in Warsaw, is known for his critical view on existing structures and systems. He questions and subverts them, often using them as a playground to explore alternative behavioural patterns. His projects are critical of institutions and show a great deal of social commitment―often for people who would otherwise not be heard such as homeless, prisoners, migrants, youths without perspective, and children. For them and with them, he creates microcosms that realize the "big project", the interpenetration of art and life.

The exhibition will present three new works: In addition to the film "The Golden Knight" and the same-titled sculpture in the Ludwig Forum the neighbouring church St Elisabeth will show a new installation.

The Aachen Art Prize is organized in cooperation between the City of Aachen, the Friends of the Ludwig Forum and representatives of the local economy. A special thanks goes to the Polish Institute in Düsseldorf, Gallery neugerriemschneider, Foksal Gallery Foundation and Gallery Dana Charkasi for their support.

The Aachen Art Prize is awarded biannually to visual artists who have had a substantial and lasting influence on the international art scene. The prize is combined with a solo exhibition in the Ludwig Forum.

Awardees of Kunstpreis Aachen: Aernout Mik (2008), Roman Signer (2006), Andreas Slominski (2004), Tacita Dean (2002), Michael Asher (2000), Richard Tuttle (1998), Katharina Fritsch (1996), Christian Boltanski (1994), On Kawara (1992), Ilya Kabakov (1990), Richard Long (1988), A.R. Penck (1985) sowie Luciano Fabro (1983).