Alessandro Balteo Yazbeck
08 May - 09 Jun 2012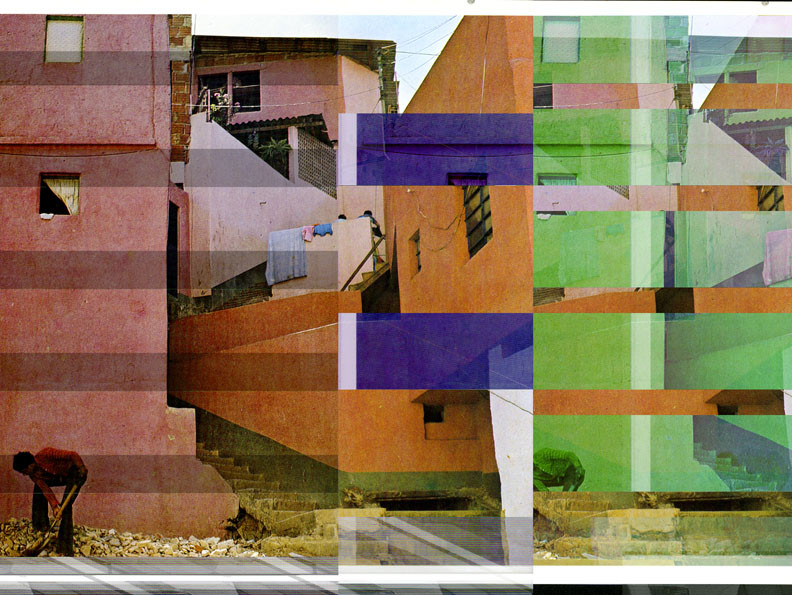 © Alessandro Balteo Yazbeck
3 corrupted files from page 10 - [2], (M4) 2006-2008
Series' Los Manolos, Plan Caracas No. 2, 1974-1976
Digital C-Print, from faulty Scanner
114 x 152 cm
ALESSANDRO BALTEO YAZBECK
Corrupted Files
8 May - 9 June 2012

Galeria Luisa Strina is pleased to present
Balteo Yazbeck's first solo show in Brazil, with an introduction by Carla Zaccagnini and Amilcar Packer. A conversation between the two artists, on the occasion of the exhibition.

The photographs featured in the exhibition are part of the documents of the Plan Caracas, dating from the mid 1970s. Caracas Plan was the first documented governmental experience intended to consolidate the infrastructure and architectural design of the Venezuelan favelas that had grown organically around the modernistic capital city.
Only two projects were finished and documented by way of fully illustrated booklets: La Vega and Los Manolos, titled after the original names popularly given to these spontaneous urban developments. All of this coincided with the nationalization of the oil industry and an enormous inflow of money arising from the 1973 international oil crisis.

In light of the government rhetoric portraying the oil as being the property of the people, coupled with the fact that only two projects of this nature were completed, the interruption of this initiative of wealth redistribution can reveal the instrumentality of architecture and photography as a tool for demagogic propaganda. Therefore the manipulation and circulation of these images of poor people and their architecture becomes an issue. Furthermore, as all politicians (during the last fifty years and independently of their ideological stands) have repeatedly used this subject as a populist strategy, it has become an evident manipulation of the image and ends up canceling the photograph's effectiveness as a certifier of the real.

Alessandro Balteo Yazbeck was born in Caracas, Venezuela, in 1972. He is now based in Berlin, Germany, also working between New York, Caracas and now São Paulo, establishing collaborations with other authors.
His work has been exhibited internationally since the 1990s and has recently been featured in shows like Liberalis, Kunst+Projekte, Lütze-Museum, Sindelfingen, Germany, (2011); Untitled (12th Istanbul Biennial), Turkey, (2011); Cultural Diplomacy: An Art We Neglect, (solo show) Henrique Faria Fine Art, New York, USA, (2010); Mamõyguara opá mamõ pupé, 31o Panorama da Arte Brasileira, Museu de Arte Moderna de São Paulo (MAM-SP), São Paulo, (2009); A Little Bit of Heaven, (solo show), Carpenter Center for the Visual Arts, Harvard University, Cambridge, USA, (2008); and The Prisoner's Dilemma, Cisneros Fontanals Art Foundation, Miami, USA, (2008).

His most recent work, a new project involving the entanglement of politics and art history, will take part in the upcoming group exhibition When Attitudes Became Form, Become Attitudes, opening in September at the CCA, Wattis Institute for Contemporary Arts, San Francisco, USA (2012).