Giuseppe Pietroniro / Zimmerfrei
12 Feb - 12 Jun 2011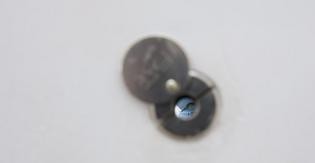 © Zimmerfrei
Untitled, 2010
spioncino, muro, oggetti, pezzo unico
Collezione MACRO, comodato da Art Collection UniCredit
GIUSEPPE PIETRONIRO E ZIMMERFREI
The Collection and The New Acquisitions
12 February - 12 June, 2011

From 12 February, two new works that have recently entered the collection will go on display, interacting with the architecture of the Museum and revealing unexpected vistas through their use of different media. Giuseppe Pietroniro's photograph Interno MACRO Roma (2010) will be shown thanks to collaboration with the Associazione Giubilarte Eventi of Valentina Ciarallo. An important partnership is continuing with UniCredit, whose support allows MACRO to present the Untitled installation (2010) by the ZimmerFrei collective. The Museum collection is thus continuing to expand, with loans and donations giving it greater wealth and complexity.

Just over two months since the new premises were opened (over 70,000 visitors since 3 December 2010) MACRO is again proving to be a dynamic powerhouse of contemporary art, offering its public four new projects that will involve the galleries and premises of the Museum of Contemporary Art of Rome.