Hervé Télémaque
05 Jun - 15 Sep 2013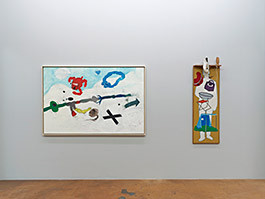 Hervé Télémaque
Éclaireur n° 2, 1962-1963,
coll. galerie Louis Carré & Cie
Le Mal des Hauteurs, 1966
coll. particulière
© 2013, ProLitteris, Zurich
HERVÉ TÉLÉMAQUE
Ciels de lits, 1959-1970
5 June - 15 September 2013

In 1961, Hervé Télémaque arrived in Paris after four years spent studying in New York. He then met André Breton and made contact with the Surrealists, though he never actually took an active part in the movement. Haiti (his birthplace), New York and Paris were three cultural worlds on which he would draw in developing his own vocabulary as a painter. The exhibition at Mamco shows a decade of work in which Télémaque laid the foundations for his later artistic output.

In the United States, Hervé Télémaque studied at the Art Students League of New York, where he saw an Abstract Expressionism that was too triumphant not to decline soon; but he refused to follow the path of the stirring gesture. While in New York he also saw American Pop Art in its infancy; it interested him from a stylistic point of view, and he shared its fascination with the products of mass culture. Yet his 'pop' references differed from those of the artists who truly belonged to the movement, tending instead to come from the counter-culture and ideologies of protest. The comic books that would nourish his formal repertoire were Mad and the work of Harvey Kurtzman rather than the All-American Men of War that so inspired Roy Lichtenstein—for in late 1950s America Télémaque was of course part of a minority and suffered from prejudice which his family background had hardly prepared him for, and which put him in mind of his own forefathers' disheartening past. This no doubt played a part in his decision to quit the States and move to France.
In Paris he came across the Surrealists, and accordingly his canvases reflect a fondness for strange associations which may seem random but in fact function as semantic links. Each object 'contaminates' the meanings of the ones around it, and their arrangement is not a logical sequence but an allusive, collusive set of forms bound together by tenuous, uncertain and yet inextricable threads.
In 1964, Hervé Télémaque took part in Mythologies quotidiennes ('Everyday mythologies') at the Musée d'Art moderne de la Ville de Paris and then, the following fall, in La figurationnarrativedans l'art contemporain ('Narrative figuration in contemporary art'); both exhibitions were organised by the critic Gérald Gassiot-Talabot. The painter thus became part of a movement that rejected both abstraction and New Realism, and sought to respond to American Pop Art by 'displaying a creative subjectivism'. Indeed, his painting is not just subjective but idiosyncratic, as if he were deliberately trying to confuse the viewer. The forms in his compositions float against plain, compartmentalised backgrounds, often in very vivid colours and sometimes soiled. The figures grimace and the objects are disconcerting, even though their links to painting, the artist's previous history or social issues can be imagined: pieces of underwear, the white canes used by the blind, logos, weapons and pointing fingers all serve to poke fun at stereotypes, or as puzzles that prevent one-sided interpretations. Télémaque has retained his linguistic roots, with a thorough mastery of French—his uncle was the poet Carl Brouard—and just a hint of Haitian Creole. So language, too, is part of his attempts to sow uncertainty: in his poetic titles and the inscriptions on his canvases, he uses words like materials rendered down to yield semantic oddities that give his world an unusual status amid the linguistic uniformity of the art scene.
If his figuration is narrative, the narrative is ambivalent, fragmented and dialectic, with its share of mockery, zaniness, irony and secrecy. This is painting that evades discourse, as it evades categorisation.

Hervé Télémaque was born in Port-au-Prince in 1937, and lives in Paris.