The Never Ending Stories cycle, autumn-winter 2014-2015 sequence
29 Oct 2014 - 18 Jan 2015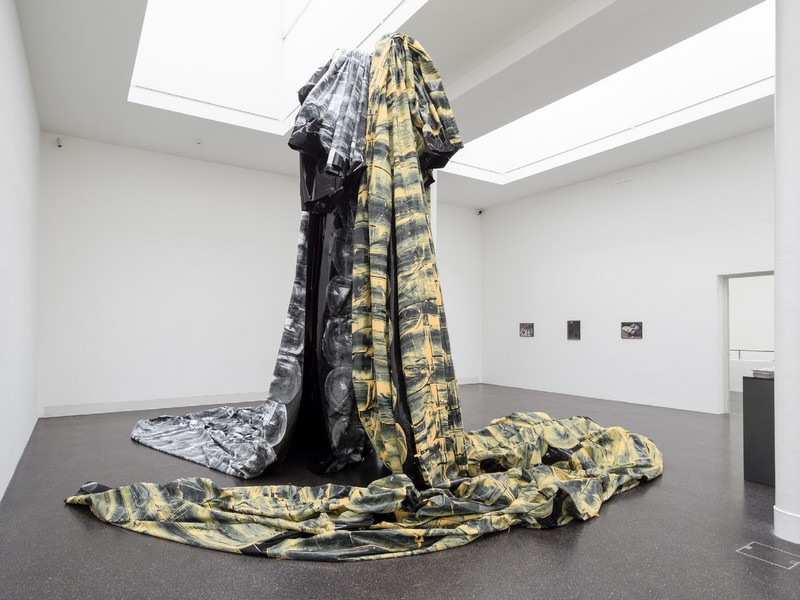 Sonia Kacem, Petra, 2013
Plastic sheeting, emulsion paint, nylon thread
Court. Sonia Kacem and Galerie Gregor Staiger, Zurich
Ulla von Brandenburg, 24 Filme, kein Schnitt
Marcia Hafif, Photographies
Sonia Kacem, Loulou
Amy O'Neill, Trucks
Stéphane Zaech, Les Voix de la Peinture

Taxophilia Abissa, a tribute to Claude Rychner

&
Carl Andre, Seven Books of Poetry
François Martin, L'Amitié (avec Jean-Luc Nancy)
Dennis Oppenheim, Proposals
Kristin Oppenheim, Cry Me a River


Autumn-winter 2014-15 sequence
29 October 2014 - 18 January 2015. Opening: Tuesday 28
October, 6pm

During the autumn-winter sequence, Mamco shows its feminine side. Among the six temporary exhibitions, four are dedicated to female artists: Ulla von Brandenburg, Sonia Kacem, Marcia Hafif and Amy O'Neill. Swiss artist, Stéphane Zaech exhibits figurative paintings. The sixth exhibit pays homage to Claude Rychner, one of the founding members of Écart. Along with these temporary exhibitions, four monographic collections belonging to the Museum are presented. Drawings by François Martin interact with those of Dennis Oppenheim, while Carl Andre's poetry resonates with Kristin Oppenheim's vocal work.

The Fondamco, Mamco and Direction of Manor Stores have the pleasure to invite you to assist to the awarding of Sonia Kacem, winner of the Manor Cultural Award 2014. Tuesday October 28, 7pm.