Marc Desgrandchamps
13 May - 04 Sep 2011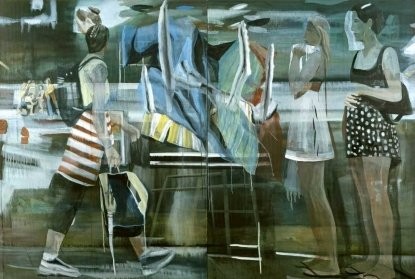 Marc Desgrandchamps
Sans Titre 2010
Huile sur toile Collection privée © Jean-Louis Losi © ADAGP, Paris 2011 Courtesy Galerie Zürcher, Paris – New York
MARC DESGRANDCHAMPS
13 May - 4 September, 2011

The Musée d'Art Moderne de la Ville de Paris (MAMVP) is devoting a solo exhibition to Marc Desgrandchamps, a leading painter on the contemporary scene in France. Comprising forty large-format paintings and a wide choice of works on paper – gouaches, drawings, collages, washes and lithographs – the exhibition retraces the artist's career from 1987 to the most recent works. This retrospective offers visitors the opportunity to view pictures being shown for the first time and to become acquainted with an oeuvre already represented in numerous public and private collections.

Readily recognisable for its evanescent figures, fragmented objects and spatial indeterminacy, the oeuvre of Marc Desgrandchamps is first and foremost a visual experience. Despite their architectural feel, his paintings are a mix of opacity, transparency and overlay, with their fluid, almost liquid colours and blurred outlines combining to provide their forms with a surprising materiality. There seems to be a communication breakdown between the juxtaposed figurative elements, as if they were hanging suspended in the picture space. The overall effect, then, is to generate doubt and questioning, rather than certainty, in the viewer's mind.

Since the early 1980s Desgrandchamps has been working in a highly distinctive vein. Initially representational – we note the influence of seminal modernists from Malevich to Beckmann – and portraying isolated, often crisis-inflected personages, his work has become more complex with the passing of the years, notably in its receptiveness to landscapes incorporating figures. Women bathers, beach scenes and towels floating in the wind are recurrent motifs in his canvases.

However, these motifs are only the most immediately identifiable aspect of the oeuvre. Desgrandchamps' pictures are much more than just descriptions of certain specific scenes. The vagueness of effect achieved through the interplay of transparency and colour turns what might have been exact representation into a kind of fantasy: the picture becomes the locus for an encounter between observed reality, dreams and the imaginary.

Marc Desgrandchamps' work occupies a singular place on the French and European art landscape in that while shot through with references – especially to the cinema – and sometimes enigmatic, it remains, in its seizing of specific moments, closely tied to the artist's way of seeing.

Born in 1960, Marc Desgrandchamps has already had a number of major exhibitions, notably at the Musée d'Art Contemporain in Strasbourg (2004), the Musée d'Art Contemporain in Lyon (2004) and the Centre Pompidou (2006).

This retrospective at the Musée d'Art Moderne de la Ville de Paris is his largest personal exhibition to date.