Roxy Paine
04 Sep - 18 Oct 2014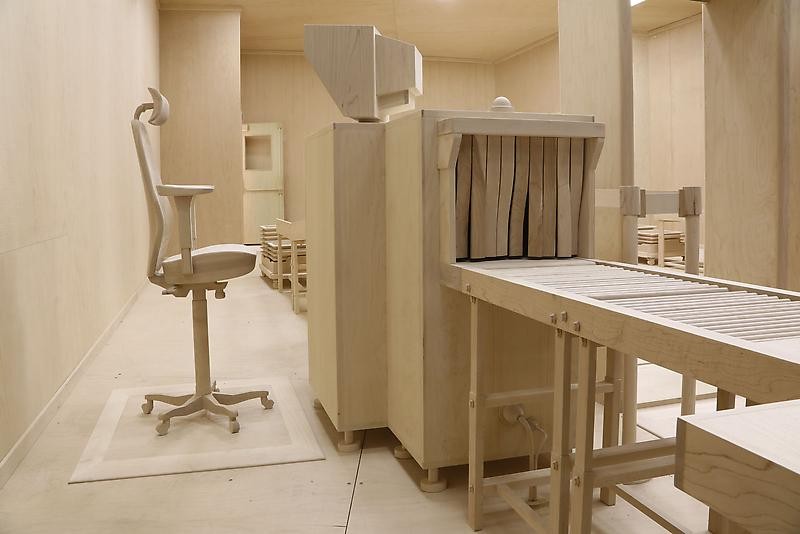 © Roxy Paine
Checkpoint, 2014 [detail]
Maple, aluminum, fluorescent light bulbs, and acrylic prismatic light diffusers
14 ' h x 26' - 11" w x 18' - 7 1/2" d
ROXY PAINE
Denuded Lens
4 September - 18 October 2014

Marianne Boesky Gallery is pleased to present Denuded Lens, a solo exhibition of new works by Roxy Paine. This is the artist's first project at the gallery since joining in 2013. Denuded Lens will be on view from September 4 through October 18, 2014, at 509 West 24th Street, New York.

Since the early 1990s, Roxy Paine has explored the collision of organic and mechanistic systems, bridging these disparate realms in serial projects whose idiosyncratic formal means arrive at related investigatory ends. From the Painting Machines, to the Replicants, to the Dendroids, Paine's practice illuminates the aesthetic and conceptual paradoxes that lie at the heart of the contemporary condition, addressing the particular tension that arises when chaos and control, fact and artifice, the organic and the industrial, meet.

At the center of this exhibition is Checkpoint, the most recent iteration of his latest series, the large-scale Dioramas. A room-sized vision of a generic airport security stop, Checkpoint presents a locale whose practical banality rests uneasily alongside the looming suggestion of larger social anxieties. At once familiar and foreign, Checkpoint offers the opportunity to visually and cerebrally examine a liminal place that is usually only experienced through a rushed physical encounter. Rendered via various processes – from computer modeling to meticulous hand carving – the work is not a replica. Rather, Checkpoint alchemically translates a quotidian space into an uncanny one. Metal and rubber are transformed into soft-hued maple wood, a depth of eighty feet is perspectivally forced into eighteen, and the moving, living moment of human experience becomes architecturally frozen in time. Decontextualized through these physical distortions, and devoid of the expected human pulse, Checkpoint turns the prosaic into poetry, both in form and in content. Here, a mundane and potentially menacing space becomes a fixed point of quiet contemplation.

Situated within Paine's larger serial practice, Checkpoint carries on the artist's exploration of process, perception and material translation, a pursuit that can be seen in works from his early Painting Machines, industrial contraptions that use laborious repetition to mechanistically fabricate works of art, to his more recent Dendroids, in which organic arboreal forms develop into hybrid systems welded out of stainless steel.

As a complement to this large-scale installation, Paine presents new examples of his recent maple wood sculptures, hybrid machine-like objects that suggest the modern day markers of labor, production, consumption and measured control. As the exhibition title suggests, when considered together, the works in Denuded Lens propose fresh vehicles for viewing our current environment, prompting us to see anew the charged space we occupy within it.

-

Roxy Paine was born in New York in 1966. He attended the College of Santa Fe, New Mexico, and the Pratt Institute, New York. Paine has exhibited widely since the early 1990s, domestically and abroad. The subject of a traveling museum exhibition in 2002, Paine created a site-specific sculptural project in New York's Madison Square Park in 2007, followed by a large-scale installation on the roof of the Metropolitan Museum of Art, New York in 2009. Currently, his large-scale Dendroid work, Symbiosis, can be seen in Philadelphia's Benjamin Franklin Parkway through June 2015. Paine's work is included in the collections of the National Gallery of Art, Washington, D.C.; the San Francisco Museum of Modern Art; the Whitney Museum of American Art, New York; and the Museum of Modern Art, New York, among others. Roxy Paine currently lives in Brooklyn and works in Queens.