5th Marrakech Biennale 2014
26 Feb - 31 Mar 2014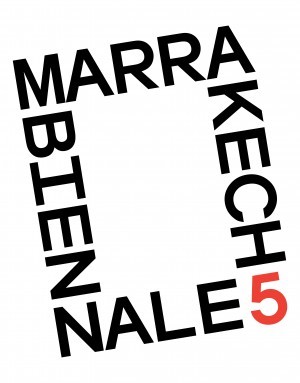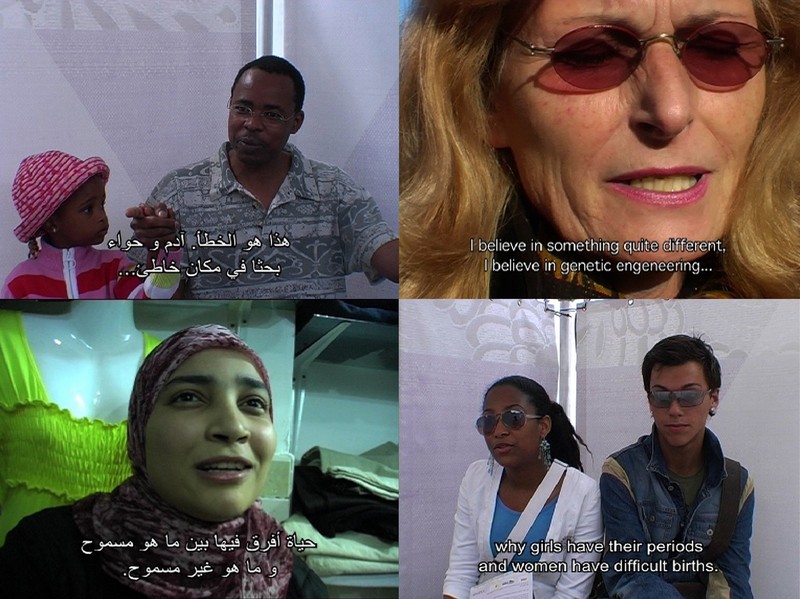 Marrakech Biennale 5, 2014
Anne Verhoijsen
Visions of Paradise, 2008 (reference work) Video, 67 min Courtesy of the artist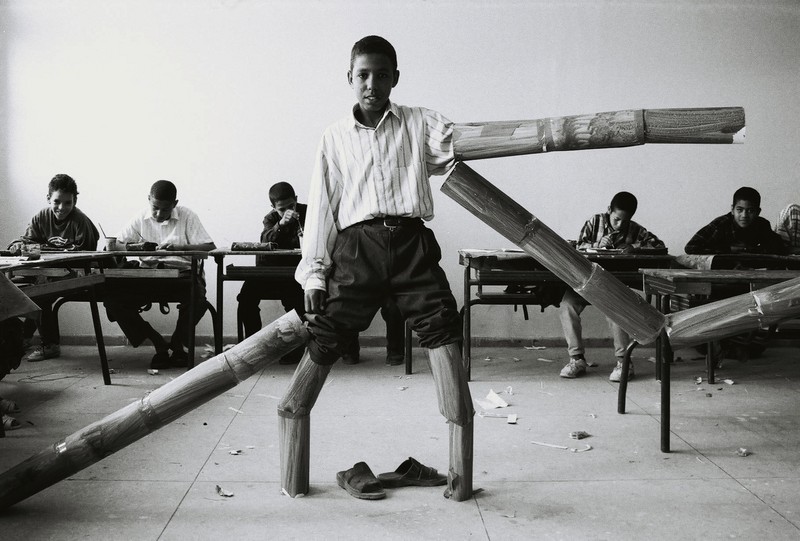 Marrakech Biennale 5, 2014
Hicham Benohoud
La Salle de Classe (reference work) Analog photography, 50 x 60 cm Courtesy of L'Atelier 21 and the artist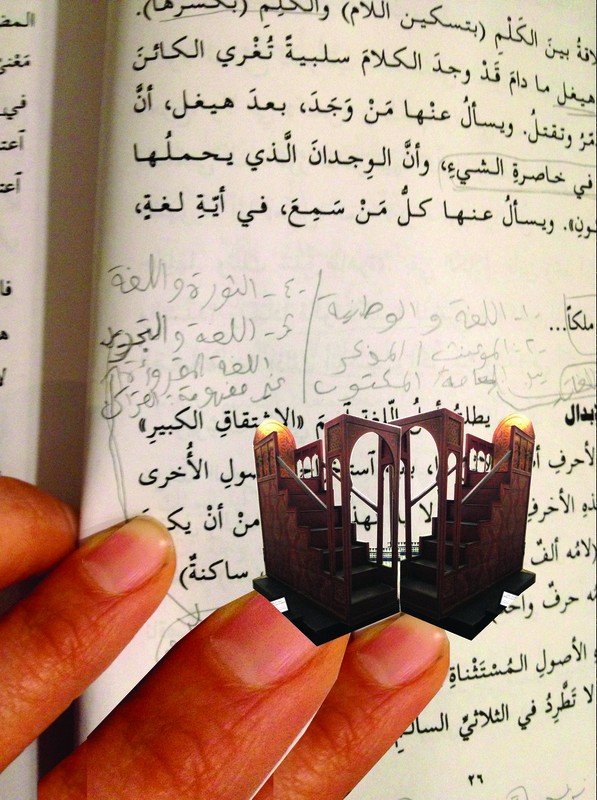 Mounira Al Solh
In brown, longtime thresholds and substrates without catalogue (preliminary sketch), 2014
Commissioned by Marrakech Biennale 5, Courtesy the artist and Sfeir-Semler gallery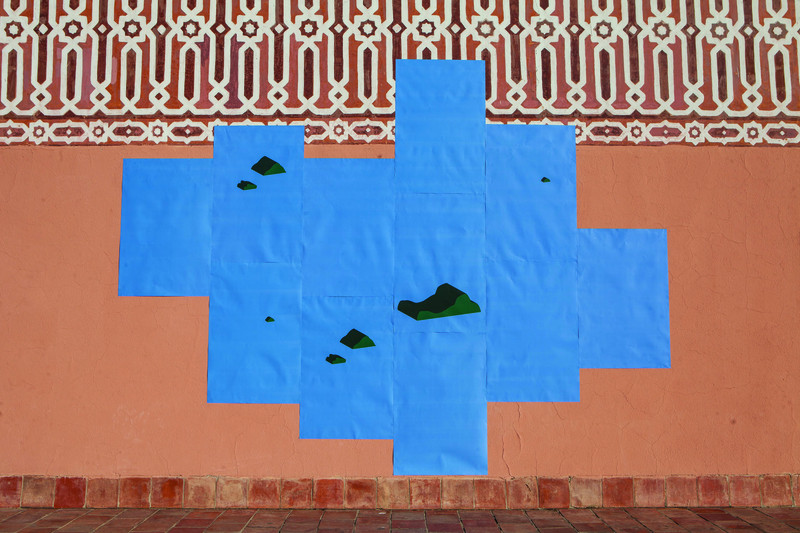 Can & Asli Altay
An Archipelago from the Mediterranean, 2014 Commissioned by Marrakech Biennale 5 Photo Pierre Antoine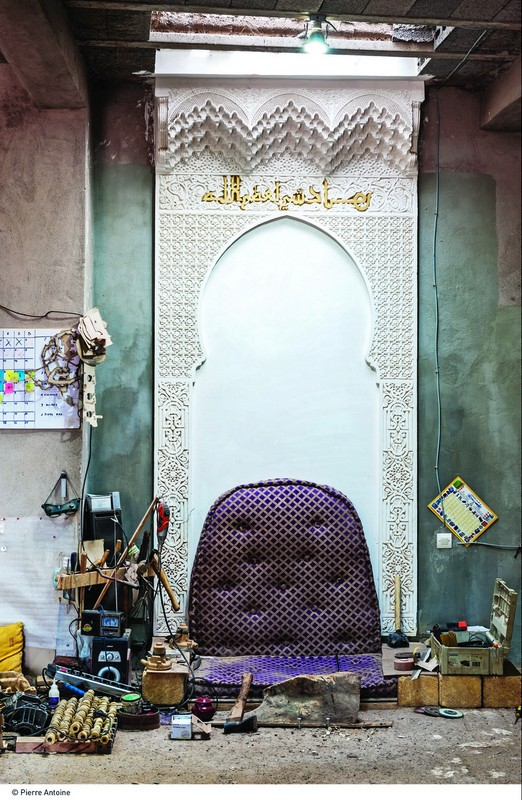 Atchilihtalah, This is all that God gave us. Atelier Eric van Hove, the trine of Dragon, the wood master Photo: Pierre Antoine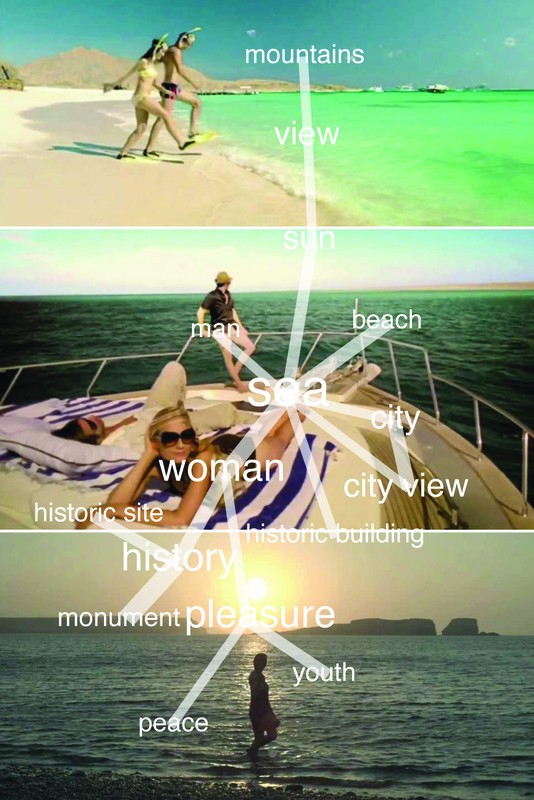 Burak Arikan
Monovacation, 2013
This work was prepared for the purpose of WitrA Contemporary Architecture Series: Please do not Disturb exhibition realized in 2013, courtesy of the artists
5th MARRAKECH BIENNALE 2014
Where are we now?
26 February – 31 March 2014

Curators:
Hicham Khalidi, Curator Visual Art Section
Khaled Tamer, Curator of Performing Arts Section
Driss Ksikes, Curator of The Literature Section
Jamal Abdennassar, Curator of Cinema & Video

Marrakech Biennale 5, under the artistic direction of Alya Sebti, has announced the list of participating artists of the Visual Arts section, curated by Hicham Khalidi. The upcoming edition of the Biennale, taking place 26 February – 31 March 2014, will analyse the question of Where are we now? through the participation of around 70 artists in four different disciplines: Visual Arts, Literature, Cinema & Video and Performing Arts.

Dutch-Moroccan curator Hicham Khalidi (1972, Kenitra, Morocco) is curating the visual arts exhibition of Marrakech Biennale 5, which will feature more than 40 artists and 20 especially commissioned pieces. Using the question and main theme of the Biennale as a starting point (Where are we now?), the visual art element reworks the idea of the contemporary implied in the Biennale's title this year and takes it into an examination of contemporaneity, fiction, and identity, providing an opportunity to question the current and changing socio-political context of the region. Hicham Khalidi connects this idea of contemporaneity to artists' strategies and to both utilize and problematize these models in order to demonstrate how fictionalized identity can be used to produce national identity.

The art works will be spread between the venues of the 16th century Palais Badii, which was commissioned by the Sultan Al Mansour in 1578, Dar Si Said, which houses the Museum of Moroccan Arts, and the former Bank Al Maghrib in the middle of the Jemaa El Fna square, all locations complementing each other in showcasing the rich architectural heritage of the city.
Participating artists
Saadane Afif (1975, Vendome, FR)
Wafae Ahalouch el Keriasti (1978, Tanger, MA)
Mustapha Akrim (1981, Rabat, MA)
Can and Asli Altay (1975, Ankara, TR)
Mohamed Arejdal (1984, Guelmim, MA)
Burak Arikan (1976, Istanbul, TR)
Jelili Atiku (1968, Ejigbo, NG)
Kader Attia (1970, Dugny, FR)
Yassine Balbzioui (1972, Kelâat Es-Sraghna, MA)
Charif Benhelima (1966, Brussels, BE)
Hicham Benohoud (1968, Marrakech, MA)
Katinka Bock (1976, Frankfurt/Main, DE)
Max Boufathal (1983, Paris, FR)
Keren Cytter (1977, Tel-Aviv, Il)
Shezad Dawood (1974, London, UK)
Lili Reynaud Dewar (1975, La Rochelle, FR)
Cevdet Erek (1974, Istanbul, TR)
Hamza Halloubi (1982, Tangier, MA)
Eric Van Hove (1975, BE)
Iman Issa (1979, Cairo, EG)
Hassaan Kahn & Ibtesam Gazder (1976/1983, Jeddah, SA)
Hamid El Kenbouhi (1976, Larache MA)
Hiba, Ghita and Zineb Khamlichi (2000, 1995, 1988, Rabat, MA)
Adriana Lara (1978, Mexico City, MX)
Gabriel Lester (1972, Amsterdam, NL)
Tala Madani (1981, Teheran, IR)
Saud Mahjoub (1957, Makkah, SA)
Randa Maroufi (1987, Casablanca, MA)
Agnes Meyer-Brandis (1973, Aachen, DE)
Sandra Niessen (1954, Toronto, CA)
Walid Raad (1967, Beirut, LB)
Younes Rahmoun (1975, Tetouan, MA)
Pamela Rosenkranz (1979, Sils-Maria, CH)
Khaled Sabsabi (1965, Tripoli, LB)
Saout Radio: Younes Baba-Ali (1986, Oujda, MA)
& Anna Raimondo (1981, Maddaloni, IT)
Mounira Al Solh (1978, Beirut, LB)
Patrick Wokmeni (1985, Douala, CM)
Katarina Zdjelar (1979, Belgrade, RS)

Special commissions:

freq-out
A sound performance project curated by Carl Michael von Hausswolff (1956, Linköping, SE) and Jacob Kirkegaard (1975, Esbjerg, DK)

Performances by
JG Thirlwell
Franz Pomassl
Anna Ceeh
Maia Urstad
Mike Harding
Brandon LaBelle
BJ Nilsen
Christine Ödlund
Kent Tankred
Jacob Kirkegaard
Tommi Grönlund
Petteri Nisunen
Carl Michael von Hausswolff
Kamarstudios
Leif Elggren
leif e. boman

Singing Maps and Underlying Melodies
A music performance curated by Clara Meister (1981, Munich, DE) in collaboration with S.T.I.F.F., kamarstudios and Moroccan musicians

About Hicham Khalidi
Hicham Khalidi is a Dutch-Moroccan curator of contemporary art. From 2003 until 2011, he was artistic director of TAG (Instutute for Audiovisual Art, The Hague, The Netherlands). Khalidi studied finance and worked for a couple of years in the fashion industry. His favourite subjects are politics of the image and trans-disciplinary research in speculative art and design. Khalidi is a board member of V2_: interdisciplinary centre for art and media technology in Rotterdam, the Netherlands. As of March 2013, Khalidi is head of exhibitions at Stuk kunstencentrum in Leuven, Belgium. His latest curated exhibitions include: On Geometry and Speculation (as part of the 4th edition of the Marrakech Biennale, Marrakech, 2012), Transnatural Festival (Nemo Science Center, Amsterdam, 2012) and Alles, was Sie über Chemie wissen müssen (Künstlerhaus Bethanien, Berlin, 2011).