Brice Marden
29 Oct 2010 - 22 Jan 2011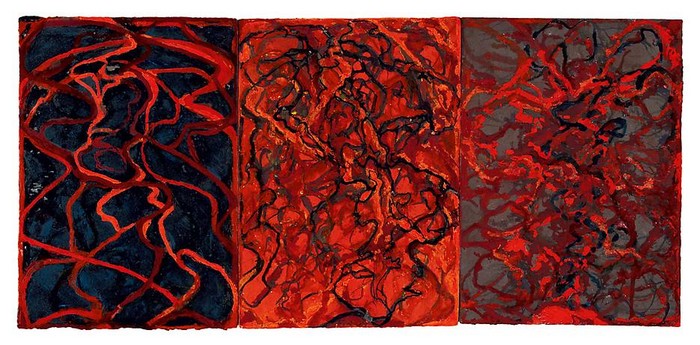 © Brice Marden
Nevisian Triptych, 2007-08
Kremer ink on heavyweight handmade paper
Three sheets, overall: 30 1/4 x 14 1/8 inches; 77 x 36 cm
BRICE MARDEN
Letters
October 29, 2010 - January 22, 2011

Matthew Marks is pleased to announce Brice Marden: Letters, the next exhibition in his gallery at 522 West 22nd Street. This will be the artist's first one-person exhibition in New York since his 2006 Museum of Modern Art retrospective.

While his MoMA retrospective was still on view, Marden embarked on a round-the-world trip. His first stop was Taipei, where he saw a Sung dynasty poem by Huang T'ing-chien called "Seven-character Verse" at the National Palace Museum. This example of Chinese calligraphy from the 11th century, mounted to an album page with borders on both sides, inspired Marden to make the first drawings in what became the Letters series.

The seven large canvases and thirteen works on paper included in this exhibition, along with 21 smaller drawings begun in China that are illustrated in the accompanying publication, make up the largest cohesive body of work the artist has made since his 1991 Cold Mountain series.

The monochromatic bands of muted color that bound the central field of calligraphic imagery in Marden's latest paintings and drawings are a distinctly new element in his work. Jeffrey Weiss, in his essay in the exhibition catalogue, notes that these bands, because they border the central field only on the left and right sides, allow "for a complex play of color and value in pictorial space, since the quality of being 'in front' or 'behind' is less dependent on what could have been a simple device: the color border as a stark optical frame." This "complex play" echoes the effect of what Weiss describes as the "evasive dimensionality" of the sinuous lines layered in the center of the new works, thus establishing a dual figure-ground relationship in Marden's calligraphic drawings and paintings.