Lluís Hortalá
29 Jan - 12 Mar 2011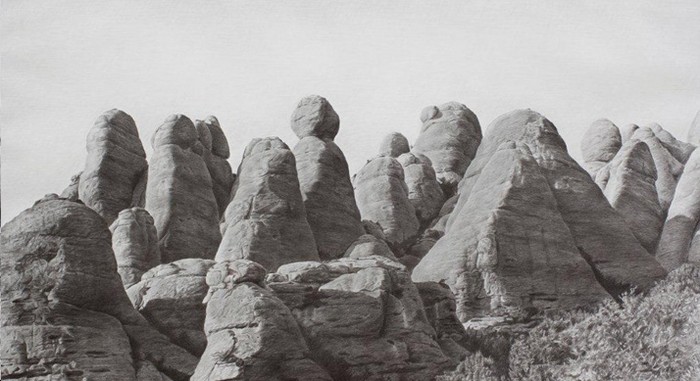 © Lluís Hortalá
"Dibujo preparatorio para el film "Las tentaciones de San Jerónimo"", 2009
Carbón sobre papel
97 x 175 cm
LLUÍS HORTALÁ
Exercitatorio
29 January - 12 Marchm 2011

Fúcares Gallery presents the fourth individual exhibition by Lluís Hortalá at its art space in Madrid. These works have been created in the last two years within a project presented now for the first time and that will be extended to Barcelona's Sunyol Foundation in March 2011. An animation in DVD, ("Las Tentaciones / Les Temptacions"), a series of three large-format drawings on canvas ("Falacia Patética"), a set of digital prints ("Exercitatorio"), a sequence of five works on paper entitled "Montserrat" and two benches/sculptures are presented at the gallery space.

The exhibition has taken its title, "Exercitatorio", from a 16th-century mystic essay, a prayer handbook written in the vernacular by García Jiménez de Cisneros, the abbot of Montserrat to expound on the plan of the Three Paths, leading from the basest thing to the loftiest. Cisneros uses the image of the ascent up the mountain, and Lluís Hortalà incorporates this idea into his work, revisiting his experience as a mountaineer as something parallel to his plastic work, something similar, in his words, to "an spiritual journey of contemplative ascent through the senses". A journey not lacking in dangers, and over which temptations loom. In his particular "Exercitatorio", the representation of landscape is also a journal of his climb.

In all the works of this series, Lluís Hortalà brings into play canonical and unmistakable images from Montserrat – a range of mountains that he knows well thanks to his personal experience as a climber, to which he now adds a reflection on the legendary and the collective, an "eye vision" as "mirror-vision" of all perspectives gained. This reflection, however, is a visual one, narrative and even physical. And it contains another about the very means to produce the images, a meditation indistinguishable from the practice or exercise.

Lluís Hortalá, who preserves the eyes of a sculptor, talks about Montserrat as if it were a glyptotheque. The mountains, individualised, christened with literary names, become characters. To this humanization of nature alludes the title "Falacia Patética" [Pathetic Falacy] (borrowed from the critic Alejandro J. Ratia, who in turn borrowed it from Ruskin vía Rosenblum), that LLuís Hortalà uses in some of his most ambitious drawings in charcoal. In them, the great attention to geological detail, dramatized by the use of lights and shades, creates human appearance. His sculptures/benches placed in front of the drawings allude to the mechanism of contemplation and its cultural context, but the visitor will realize in the sequences offered how farce and deception are part of the representation.

Lluís Hortalà (Olot, Girona, 1959) has set up individual exhibitions in galleries both in Spain and Portugal. Some of the collections where his work can be seen are Artium, MNCARS, Barcelona's "La Caixa" Foundation and the Trust Foundation, in Washington DC. Outstanding among his projects is an individual exhibition at the CDAN in Huesca (September 2011) in which he will present a revision of his work tackling landscape.