Matthias Weischer
29 May - 28 Aug 2011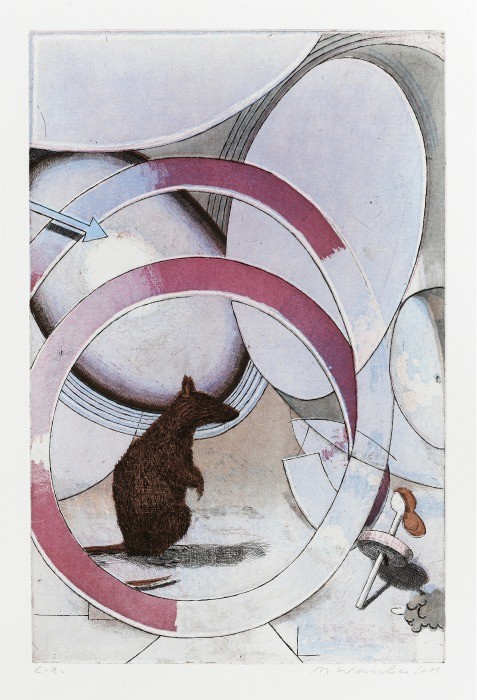 Matthias Weischer
Zeiger 2011
Farbradierung (4 Platten) auf Bütten
© VG Bild-Kunst Bonn, 2011, courtesy Galerie EIGEN + ART Leipzig/Berlin, Foto: Uwe Walter, Berlin
MATTHIAS WEISCHER
Works on Paper
29 May - 28 August, 2011

Matthias Weischer, known as a painter, discovered paper some years ago as a medium for his artistic ideas.

Pens and sketchpads made it easy for him to leave the atelier, also a place for thoughts, in order to record the outside space in drawings and to discover new channels of finding images. Matthias Weischer opened himself to new viewpoints and topics with an intense dedication to drawing.

The great outdoors, natural light, became new sources of inspiration during his 2007 residence as a fellow of the Villa Massimoin in Rome. At the same time, Weischer's zest for focusing on graphic techniques was aroused in addition to sketching. He commenced a dedicated study of the specific, inherent qualities of etching and lithography. His sketches of landscapes and also inside rooms were created in black and white etchings and lithography, and he started producing linocuts. This fascination gripped him even more than working with paint. In his latest works - coloured etchings and lithography - he worked with differentiated coloured shadings and surfaces. The process of discovery and working is protracted and not always a straight line. The printing process is complex. Matthias Weischer is in constant dialogue with the printers with whom he implements the ideas for his images. At the same time, he experiments with paper and paint in order to open up new artistic avenues and to overcome the boundaries between painting and sketching.

The exhibition will show work created on and out of paper over the last two years. Afterwards, the exhibition will be presented in the Bremerhaven Art Society.