Buckminster Fuller
14 Mar - 21 Jun 2009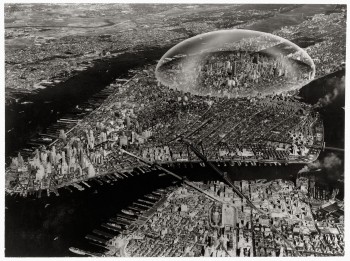 © Buckminster Fuller and Shoji Sadao
Dome Over Manhattan, ca. 1960
Department of Special Collections, Stanford University Libraries. Image courtesy the Estate of R. Buckminster Fuller
BUCKMINSTER FULLER
"Starting with the Universe"

March 14 - June 21, 2009

From his geodesic dome to books popularizing the terms "spaceship earth" and "synergetics," the life mission of R. Buckminster Fuller (1895-1983) was to create design solutions that benefited the largest segment of humanity while consuming the fewest resources. This exhibition explores Fuller's extraordinary body of work, focusing on his wide-ranging and sometimes controversial role within the worlds of art, architecture, and utopian thought.
This exhibition is organized by the Whitney Museum of American Art in association with the Department of Special Collections of the Stanford University Libraries.