Collection Highlights
18 Aug 2007 - 08 Jun 2008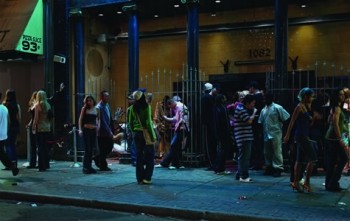 © Jeff Wall
In front of a nightclub, 2006
MCA Collection, gift of Katherine S. Schamberg by exchange
Photo courtesy of Marian Goodman Gallery, New York
COLLECTION HIGHLIGHTS
August 18, 2007 - June 8, 2008

Collection Highlights, a survey of contemporary art from the MCA's unique perspective, charts our evolution as a major contemporary art institution over our 40-year history through many of the most significant works in the MCA Collection.
Roughly organized by chronology, Collection Highlights is one of three collection exhibitions celebrating the MCA's 40th anniversary and builds on themes explored in recent collection-based exhibitions such as The Fluidity of Time (2005) and Life Death Love Hate Pleasure Pain (2002), which was accompanied by a catalogue devoted to the MCA's most significant works.
View works from the 1940s to '70s by Francis Bacon, Lee Bontecou, Christo, Robert Irwin, Donald Judd, Rene Magritte, Bruce Nauman, Claes Oldenburg, Ed Paschke, Robert Rauschenberg, Gerhard Richter, Robert Smithson, Andy Warhol, and H. C. Westermann as well as works from the '80s and '90s by Chris Burden, Chuck Close, Jeff Koons, Sigmar Polke, Richard Prince, Cindy Sherman, and Thomas Struth, plus works from our most recent period of acquisitions, the mid '90s to the present, by Matthew Barney, Ellen Gallagher, Andreas Gursky, Jim Hodges, Judy Ledgerwood, Kerry James Marshall, Catherine Opie, Paul Pfeiffer, Tony Tasset, and Jeff Wall. Many of these works, acquired as gifts or purchases over the years, initially appeared here as part of exhibitions originated by the MCA.
Collection Highlights will be presented in two parts—the first ending on February 3 and the second continuing through June 8—and will be followed by another large-scale presentation of key works from the collection titled Artists in Depth, which opens in late June 2008.
This exhibition is curated by Elizabeth Smith, James W. Alsdorf Chief Curator and Deputy Director for Programs at the MCA.