Production Site: The Artist's Studio Inside and Out
06 Feb - 30 May 2010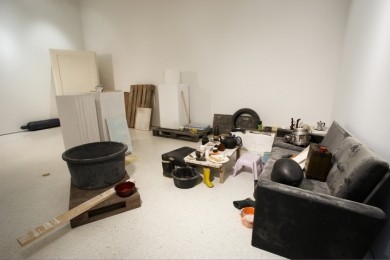 © Peter Fischli and David Weiss
Untitled, 2005, installation view at the Carnegie Museum of Art, Pittsburgh, 2008-2009. Private foundation, Oslo, c/o Peder Lund Courtesy of Galerie Eva Presenhuber, Zurich

PRODUCTION SITE: THE ARTIST'S STUDIO INSIDE AND OUT

February 6 - May 30, 2010

Throughout art history, artists have reflexively looked at the very site where art work is produced -- the studio -- as a source of inspiration for their work. Production Site reexamines the artist's studio as subject, presenting work that documents, depicts, reconstructs, or otherwise invokes that space, revealing how the studio functions as a place where research, experimentation, production, and social activity intersect.
The exhibition reflects and addresses the pivotal role of the studio in artists' practice while alluding to its enduring status in the popular imagination. The works that comprise Production Site include multi-channel video projections, photographic light-boxes and installations, and life-sized fabrications of artists' studios -- real and imagined -- that either extol the virtues of the studio or problematize the preconceived and often highly romanticized notions associated with it. The exhibition provides the viewer with an unprecedented and illuminating look at how some of the most compelling artists of our time have demystified, remystified, and reconsidered this site within the physical and conjectured space of the work of art.
The exhibition provides numerous opportunities for educational programs and a film series depicting artists in their studios as well as commissioned performances. A publication (or series of publications) will be produced to complement the exhibition. The exhibition is organized by MCA Curator Dominic Molon.