Rashid Johnson
14 Apr - 05 Aug 2012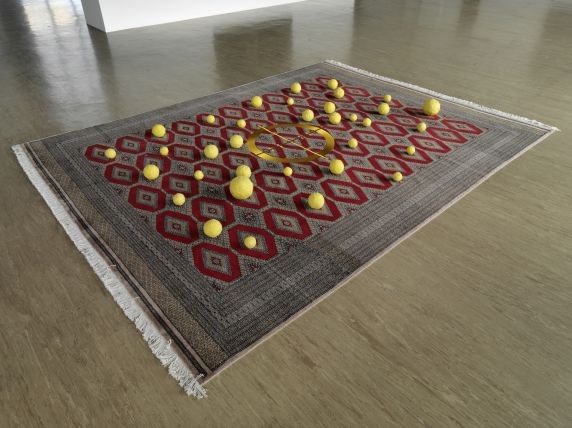 © Rashid Johnson
How ya like me now, 2010
Persian rug, gold embroidery, shea butter
7 x 102 1/2 x 143 1/2 in. (18 x 280.5 x 364.5 cm)
Galerie Guido W. Baudach, Berlin. Image courtesy of the artist
RASHID JOHNSON
Message to Our Folks
14 April - 5 August, 2012

In April 2012, the MCA will present New York-based artist Rashid Johnson's first major museum solo exhibition. A former Chicagoan and alumnus of the UBS 12x12 exhibition series (2002), Johnson explores the complexities of black identity by creating a dialogue with legacies of black intellectual and popular figures through a process and materials-based practice of photographs, sculptures, videos, installations, and paintings that are rooted in his own identity as a black man in the U.S.. The shifting nature of identity and one's agency in that shift is at the root of his work which deconstructs a false notion of a monolithic African-American identity by bringing education and class difference into the discussion: How does knowledge translate to power? How do we know who we are? How do we define ourselves individually and collectively? How does one function with dual-identities as in W.E.B. DuBois notion of "double consciousness" and even more frequently today, negotiating the role of three or four identities?

A preeminent artist of the post-media generation, Johnson deftly oscillates among several different media depending upon conceptual needs of the work. Johnson's specific materials allude to alchemy, transformation, and magic to undermine any sense of concrete understanding in favor of prompting a sense of wonder in the unknown, yet stem from the familiar and commonplace. His sculptures, photographs, and installations evoke an other-worldly science fiction where Sun Ra meets Al Green and Melvin Van Peebles, often incorporating found objects- plants, books, record albums, photographs, vessels, shea butter, for example- for their personal and universal connotations.

This exhibition, curated by Julie Rodrigues Widholm, MCA Pamela Alper Associate Curator, in close collaboration with the artist will survey ten years of Johnson's work with an emphasis on major works from the last five years. Johnson will debut new work and create a new commission for the exhibition. A fully illustrated catalogue, the most comprehensive documentation of Johnson's work to date, will accompany the exhibition.