The Way of the Shovel: Art as Archaeology
09 Nov 2013 - 09 Mar 2014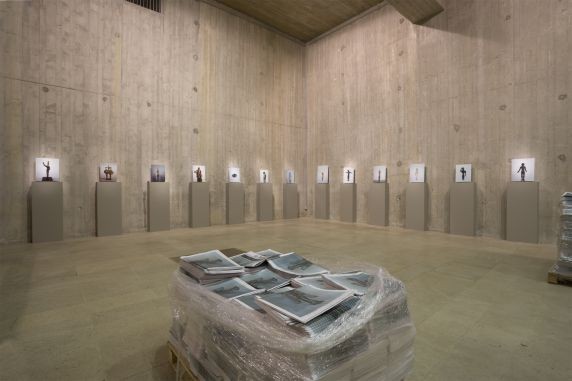 Jean-Luc Moulène
Installation view of Le Monde, Le Louvre at Musée du Louvre, Paris
All rights reserved
THE WAY OF THE SHOVEL: ART AS ARCHAEOLOGY
9 November 2013 - 9 March 2014

The Way of the Shovel: Art as Archaeology traces the interest in history, archaeology, and archival research that defines some of the most highly regarded art of the last decade. Consisting almost entirely of work produced after the year 2000, The Way of the Shovel re-imagines the art world as an alternative "History Channel" that is as concerned with remembering histories as it is with challenging their truthfulness.

The exhibition is arranged according to several conceptual underpinnings. In the first strand, archaeology is considered metaphorically, with an emphasis on art that takes the form of historical, often archival, research. Most of this work is photographic in nature, much of it moving-image based, and explores art's documentary powers. Key figures in this category include Phil Collins, Moyra Davey, Tacita Dean, Stan Douglas, Joachim Koester, Deimantas Narkevicius, Anri Sala, Hito Steyerl, and Ana Torfs, among others. In the second strand, archaeology is considered more literally, in works that question the relationship between matter (stuff, things) and historical truth. This section features the sculptural work of artists such as Cyprien Gaillard, Daniel Knorr, Michael Rakowitz, and Simon Starling, as well as artworks that address the political dimension of archaeology by Mariana Castillo Deball and Jean-Luc Moulène. Two "exhibitions-within-the-exhibition" take a closer look at the towering figure of Robert Smithson, art's quintessential searcher, and at psychoanalysis as an archaeology of the mind. In these subsections, we encounter the work of Jason Lazarus, Tony Tasset, Shellburne Thurber, and others.

Although broad in both geographic and generational scope, The Way of the Shovel also focuses on the history of its own location, Chicago. It is accompanied by a full-color catalogue featuring contributions from key critics and historians as well as from several of the participating artists.

The exhibition and related MCA Screen video program features the work of Pamela Bannos, Lene Berg, Derek Brunen, Mariana Castillo Deball, Phil Collins, Moyra Davey, Tacita Dean, Mark Dion, Stan Douglas, Cyprien Gaillard, Raphael Grisey, Scott Hocking, Rebecca Keller, Daniel Knorr, Joachim Koester, Aleksander Komarov, Susanne Kriemann, Jason Lazarus, Jean-Luc Moulène, Deimantas Narkevicius, Sophie Nys, Gabriel Orozco, Michael Rakowitz, Steve Rowell, LaToya Ruby Frazier, Anri Sala, David Schutter, Simon Starling, Hito Steyerl, Tony Tasset, Zin Taylor, Shellburne Thurber, Ana Torfs, and Siebren Versteeg.

This exhibition is organized by Dieter Roelstraete, Manilow Senior Curator at the Museum of Contemporary Art Chicago.