Works on Paper from the MCA Collection
15 May - 22 Aug 2010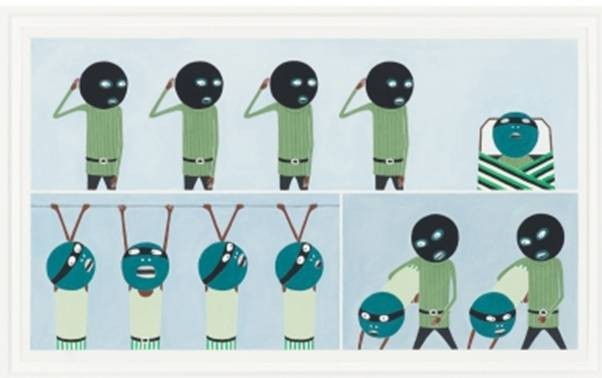 © Laylah Ali
Untitled (Greenheads), 1999
Collection Museum of Contemporary Art, Chicago, restricted gift of Robert and Sylvie Fitzpatrick in memory of William B. Cook
WORKS ON PAPER FROM THE MCA COLLECTION

May 15, 2010 - August 22, 2010

This exhibition presents a selection of works on paper from the MCA Collection. The works represent or evoke a sense of conflict or alienation, often in a disproportionately cartoonish manner. Laylah Ali's gouaches from her Greenheads series, for example, translate complicated and dysfunctional human interactions into hermetic, visually streamlined narratives, while Peter Saul's drawings depict American excess and violence in the 1960s through extremely stylized forms.

The distinctive draftsmanship of Karen Kilimnik and Raymond Pettibon is represented in multiple works by each artist. Kilimnik combines imagery redolent of fashion sketchbooks with distracted texts written in the margins that blur the boundaries between homage and obsessive fandom. Pettibon similarly uses image and text as a way to displace the viewer while making arch observations on the more fallible aspects of the human condition.

Mike Kelley's Disembodied Militarism refers to the classic newspaper comic "Sad Sack" in a suite of drawings that wryly comment on the dispensable role of the soldier through ironic humor, while Henry Darger's drawings depicting the unusual scenarios articulated in his narrative "The Story of the Vivian Girls," in What is known as the Realms of the Unreal, of the Glandeco-Angelinnian War Storm, Caused by the Child Slave Rebellion.