Annette Kelm
13 Jun - 24 Aug 2008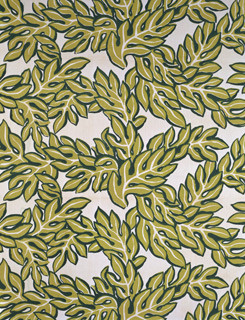 Annette Kelm, Big Print #6 (Jungle Leaves - cotton twill 1947 design Dorothy Draper, courtesy Schumacher & Co), 2007
c-print; 131,5 x 100,5 cm
Witte de With presents a solo exhibition of new and existing works by the Berlin-based photographer Annette Kelm. With intense visual clarity, she portrays objects dislocated from their usual context. Contrary to their apparent simplicity and reduced aesthetic, Kelm's images contain a wealth of references, from interior design and architecture, to Hollywood films or current day concerns with exoticism and global trade.
Among the works shown at Witte de With are a selection from Kelm's Big Prints series of 2007, photographs of printed fabrics designed by Dorothy Draper, an American decorator for the rich and famous in the 1940s. Draper's designs borrowed heavily from Hawaiian and African fabrics, transforming tribal patterns into chic wallpapers and fabrics. Here the fabrics are photographed flat and at close range, highlighting the beauty of the patterns' compositions, as well as the disjunction between the fabric's woven texture and the glossy paper of the photographic print.
Also presented at Witte de With is Caps (2008), a series of 20 images of almost identical caps, edged in different colors and taken from various angles. Kelm found these hats in New York's Chinatown and was attracted by their marriage of the traditional Chinese straw hat with the shape of the classic all-American baseball cap.
For this exhibition, Kelm has produced a new body of work exploring the pre-fabricated houses that emerged in Germany in the post-war years. Intrigued by the high level of ornamentation they display – quite at odds with usual notions of pre-fab architecture – Kelm photographed these houses using a 4x5 large format plate camera, a slow process with only one shot per plate. The resulting images treat each house as an object, but avoid a Becher-like categorization, capturing instead the poetic quality of these "Swiss" chalets and "Swedish" villas.
Revealing her own research-based practice, Kelm's works spark off a chain reaction of associations and draw upon the rich vocabulary of the history of painting, sculpture and – particularly – photography. Despite the seemingly deadpan presentation of her subject matter, Kelm's photographs contain a certain natural beauty and reveal a subtle sense of humor. This lyrical quality sets her apart from earlier conceptual photographers (eg. Dan Graham, Christopher Williams), demonstrating her reassessment of contemporary photography and the freshness of her approach.
At Witte de With, Kelm's photographs are presented within the remains of Liam Gillick's solo exhibition, which imposed an architectural meta-structure onto the gallery spaces. This framework designated which rooms were to be used for the presentation of Gillick's work and which were to be seen as "institutional zones", for which he gave back the responsibility to the curatorial team. Witte de With chose to use these spaces to present the work of other artists, first with Manon de Boer, then Keren Cytter, Gareth Moore, Claire Fontaine and now – as a final installment – Annette Kelm. Gillick's meta-structure will be dismantled as Kelm's show closes.
Curated by: Nicolaus Schafhausen, Zoë Gray
With thanks to: Goethe Institut, Rotterdam ; Johann Koenig, Berlin; Institut für Auslandsbeziehungen e.V.
Note to press
For further information, please contact Nathalie Hartjes on
press@wdw.nl
or +31 (0)10 411 0144.
Publication: Witte de With and KW Institute for Contemporary Art Berlin will publish a new book by Annette Kelm in 2008, designed by Hendrik Schwantes. It will feature a dialogue between the artist, Nicolaus Schafhausen and Susanne Pfeffer, and essays by Zoë Gray and Dirk von Lowtzow.
Biography
Annette Kelm (b. 1975, Stuttgart) lives and works in Berlin.
Recent solo exhibitions include: the Passengers, CCA Wattis, San Francisco (2008); Errors in English, Art Cologne Prize for Young Artists, artothek, Cologne (2006); New Talents, Art Cologne (2005).
Recent group shows include: The Possible Document, Herald St. Gallery, London (2008); The History of a Decade That Has Not Yet Been Named, Lyon Biennale; Anything You Want, Pump House Gallery, London (both 2007); Gold Standard, PS1, New York; New Ghost Entertainment-Entitled, Or Gallery, Vancouver; Having New Eyes, Aspen Art Museum, Aspen; A Lovers Discourse, Peres Projects, Los Angeles (all 2006).
In 2006, Kelm's work was shown at Witte de With as part of the group exhibition Don Quijote.
* Saâdane Afif's exhibition opens the same evening. At 7 p.m. he will be in conversation with Sam Steverlynck from Gonzo (circus) magazine. Language: English.