Bruce McClure
22 Jan - 01 Feb 2015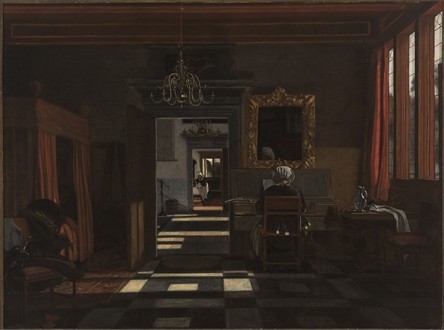 Emanuel de Witte
Interior with Woman at the Virginal, 1665-1670
oil on canvas
collection Museum Boijmans Van Beuningen Rotterdam
BRUCE MCCLURE
Signals
22 January – 1 February 2015

Witte de With joins forces with the International Film Festival Rotterdam (IFFR) and hosts an exhibition by Bruce McClure for IFFR 2015.

With its focus on Bruce McClure, the IFFR is not celebrating a filmmaker but a rather an artist who devotes himself to the projector as a unique instrument in art history. Using only two frames patterned as (black) emulsion and (white) base that are looped for modified 16mm projectors, stroboscopic configurations provide facts for perception that occasion a wealth of subjective interpretations. The same material that produces this multi-layered flicker is also triggering the soundtrack, often a disorientating barrage of repetitive noises that constantly evolve.

With his idiosyncratic methods of projecting strips of film, Bruce McClure is by far the most original successor to the likes of the radical avant-gardist such as Peter Kubelka, Ken Jacobs and Hollis Frampton. Trained as an architect, McClure is recently applying himself more to installations where he further spatializes the interplay light and perspective with a similar low-tech, minimalist approach.
His presentation at Witte de With, COURTING DAYLIGHT IN SAVING DARKNESS, is his most elaborate and expansive installation to date and references the Emanuel de Witte painting "Interior With A Woman At The Virginals" (from the collection of Museum Boijmans Van Beuningen).

To compensate for the impossibility of a full retrospective of this prolific live projectionist, the IFFR will bundle for the first time and in a limited edition the handwritten instructions that McClure distributes at the occasion of each specific performance.

During the exhibition, Bruce McClure will present eight different performances in LantarenVenster 4, From Jan 23rd to Jan 29th at 6pm. An opening performance will take place in WORM on Jan 22nd at 22h.