Kunsthalle for Music
26 Jan - 03 Mar 2018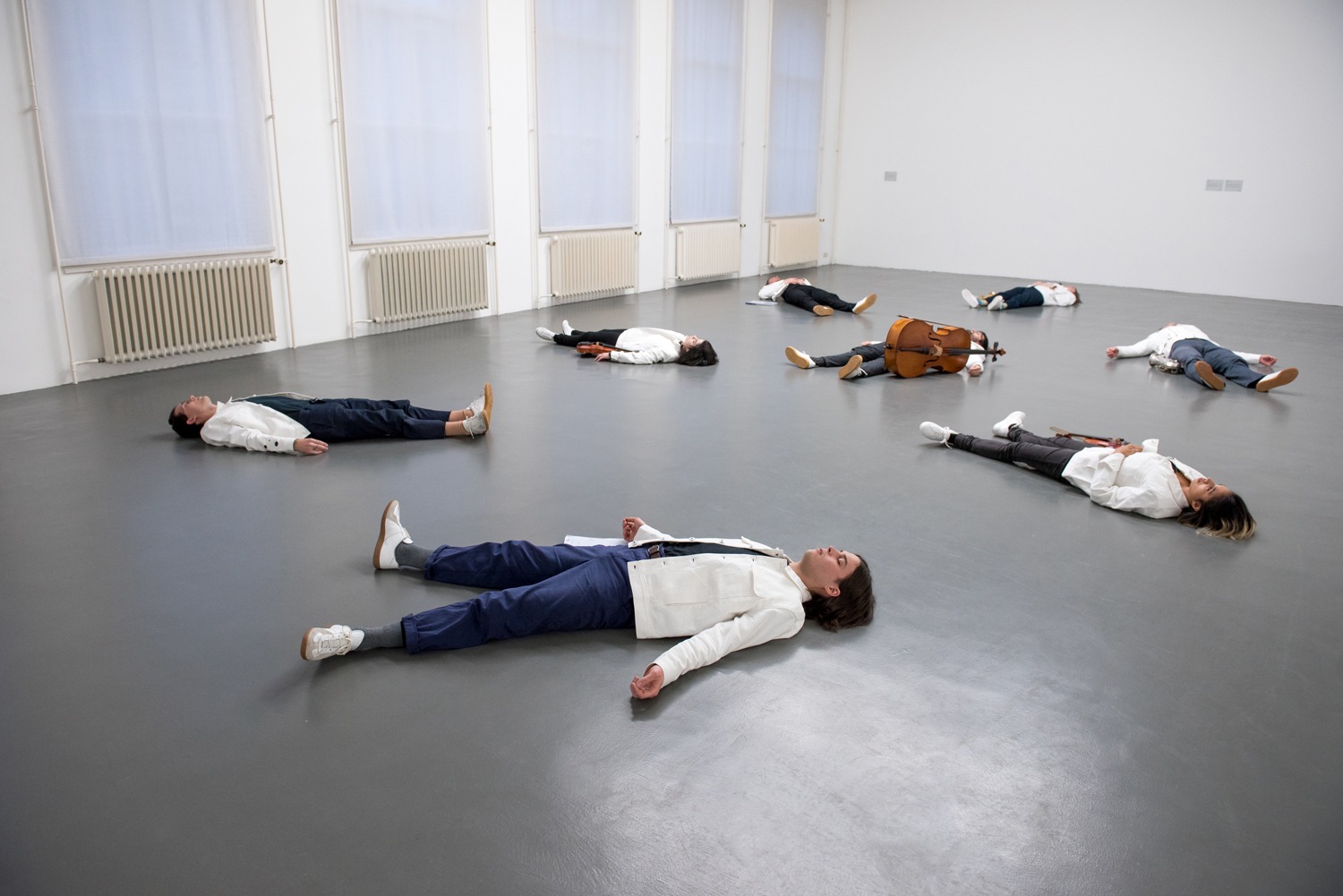 Opening Kunsthalle for Music on Thursday 25 Jnauary 2018 at Witte de With Center for Contemporary Art, Rotterdam
Photographer: Nieuwe Beelden Maker
KUNSTHALLE FOR MUSIC
26 January – 3 March 2018

Participants: Jonathan Bepler, Libia Castro, Dominique Gonzalez-Foerster, Ari Benjamin Meyers, Olafur Olafsson, The Residents

From 25 January 2018 till 3 March 2018, Witte de With Center for Contemporary Art in Rotterdam will turn into the Kunsthalle for Music, a contemporary space for the live exhibition of musical works.

"Music is not necessarily what you think it is. Can we imagine a space for music that exists outside of any media and beyond the stage? A space for un-recordable music, music of undefined duration, existing even when no audience is present? A dissolution of performer and audience, of rehearsal and performance? How can we imagine contemporary music, composition, and music performance as contemporary art today?" — from Ari Benjamin Meyers' manifesto for the Kunsthalle for Music.

Invited by Defne Ayas, Director of Witte de With, in 2016, Kunsthalle for Music is the large-scale institutional project of Ari Benjamin Meyers investigating and researching what it means to create a new institution for music in an art context today. Departing from historical precedents situated at the cross-section of music and visual art, Kunsthalle for Music instantiates – for the first time – a 'total musical situation' in which the ensemble itself, and their enacting of a music-based repertory, wholly constitutes the exhibition, forming the material with which all commissioned artists are invited to work, against the backdrop of the stripped-down gallery spaces.

Ensemble
The Kunsthalle for Music ensemble forms the heart of the Kunsthalle for Music, consisting of eight musician-performers. An open-call for musicians of all types, backgrounds and skill-levels resulted in the following ensemble: Bergur Thomas Anderson (guitar), Billy Bultheel (piano), Sandhya Daemgen (violin and voice), Sara Hamadeh (violin), Alexander Iezzi (drums and percussion), Nanna Ikonen (saxophone and electronics), Jackson Moore (saxophone), and Pau Marquès i Oleo (cello).

New Commissions & Repertoire
The Ensemble will perform newly commissioned works by Dominique Gonzalez-Foerster, Jonathan Bepler, Libia Castro & Ólafur Ólafsson, and The Residents, as well as a repertoire of existing pieces collected from artists and composers. The exhibition also includes three of Meyers' performance-based music works: Serious Immobilities, Duet, and Anthem.

Founding of the Kunsthalle for Music
The Kunsthalle for Music is commissioned by Witte de With Center for Contemporary Art (Rotterdam) together with Spring Workshop (Hong Kong). An exposition, not an exhibition by Ari Benjamin Meyers unfolded the Kunsthalle's foundational themes at Spring Workshop (11 March - 1 April 2017), taken up by Music is Not! A Symposium On and Around the Kunsthalle for Music at Witte de With (26-27 May 2017), with contributions by Peter Osborne (Professor of Modern European Philosophy), Armen Avanessian (Philosopher, Literary & Political Theorist), Victoria Ivanova (Writer and Curator), Jörn Schafaff (Art Historian), Marie-France Rafael (Art Historian), Francois Quintin (Director, Lafayette Anticipations), and Lisette Smits (Curator), amongst others, culminating with this inaugural take-over at Witte de With.