Charles Atlas
17 Feb - 13 May 2018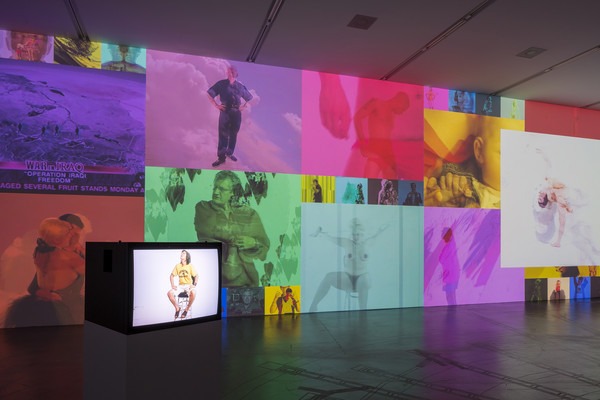 Charles Atlas, 2003, 2003/2018, 4-channel video installation, exhibition view at Migros Museum für Gegenwartskunst, Courtesy of the artist and Luhring Augustine, New York, photo: Lorenzo Pusterla
CHARLES ATLAS
17 February – 13 May 2018

The American artist Charles Atlas (b. St. Louis, Missouri, 1949) has been a leading figure in the domain of film and video art for almost fifty years, creating complex video installations and seminal films documenting dance and performance art. Atlas rose to renown with collaborative projects involving choreographers like Merce Cunningham (1919–2009) and Michael Clark (b. 1962) as well as the fashion designer and performance artist Leigh Bowery (1961–1994). His network of creative collaborators and associates largely coincides with his circle of friends: many of his works from the 1980s and 1990s are portraits of fellow protagonists of the New York underground scene and the contemporary milieu, employing a sub- and pop-cultural idiom to scrutinize aspects of biopower and the politics of bodies and identity. To this day, younger generations of filmmakers regard Atlas's visual language as a key reference; a prominent example is his cinematography in the fictionalized documentary Hail the New Puritan (1986), in which the camera becomes the subject's active counterpart. One defining feature of Atlas's work is his ongoing investigation of the expressive potentials of time-based media. He started experimenting with the defamiliarizing impact of techniques such as chroma key compositing back in the late 1970s. His more recent video installations, which are often highly technically complex, are abstract and playful explorations of an iconography of geometric series or numerical sequences, examining questions of the segmentation and structuring of the visual space as well as contemporary issues in the politics of representation.

The artist's exhibition, curated by Raphael Gygax, will be his first solo show in Switzerland. It will feature a selection of works from the last 20 years as well as one recent piece. An accompanying monograph will be published by JRP|Ringier in 2018.

Charles Atlas lives and works in New York City. Over the decades, his work has been presented in numerous exhibitions in the U.S. and abroad, including, most recently, at the Museum of Modern Art (2017); the Walker Art Center, Minneapolis (2017); the Whitney Museum of American Art, New York (2016); and the Tate Modern, London (2013). His contribution to the 57th Venice Biennale in 2017 was honored with a Special Mention Award.