Communities
18 Feb - 07 May 2017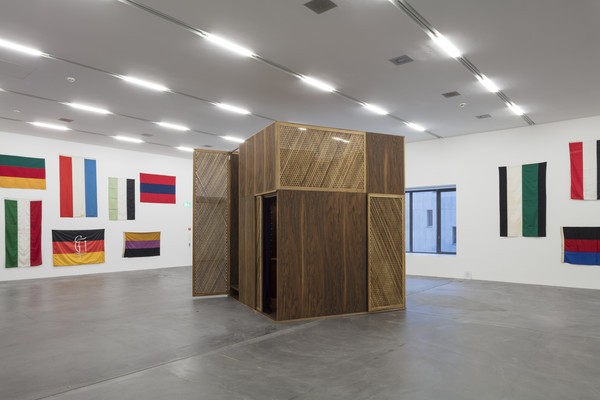 Collection on Display: Communities, exhibition view at Migros Museum für Gegenwartskunst Zürich 2017, photo: FBM Studio
COLLECTION ON DISPLAY: COMMUNITIES
18 February – 7 May 2017

Atelier van Lieshout, Lothar Baumgarten, Phil Collins, Alicia Framis, Daniel Knorr, Steve McQueen, Cady Noland, Shirana Shahbazi, Wu Tsang

The exhibition format Collection on Display presents selected works from the collection of the Migros Museum für Gegenwartskunst – this year as a three-part themed series with the title Communities, Rules and Rituals.

The first exhibition in the Communities, Rules and Rituals cycle revolves around artists who examine communities: social groups that are not just purpose-oriented, but define themselves via shared views, values and an inner bond. As different as these groups may be, their lowest common denominator is the clear dividing line that they draw between themselves and the others. The two subsequent exhibitions concentrate on works that address rules or rituals: two factors that are fundamental to the functioning and preservation of communities. Rules (the term «social norms» could also be used) predetermine the behaviour of the individual within a social group and make it possible to live together with other people. They limit the possible distinct modes of behaviour, but also reduce the complexity of social coexistence, which in turn provides «security» and orientation. Likewise, rituals have a stabilising effect on social systems. They symbolically deal with the basic issues of human existence, create meaning and order, and promote the «sense of unity» that is so central to the community.

The exhibition series Communities, Rules and Rituals combines works from the collection that are already well known with pieces that have seldom been exhibited before, as well as new additions that are shown here for the first time.

Collection on Display is curated by Nadia Schneider Willen (collection curator, Migros Museum für Gegenwartskunst).