Koki Tanaka
25 Aug - 11 Nov 2018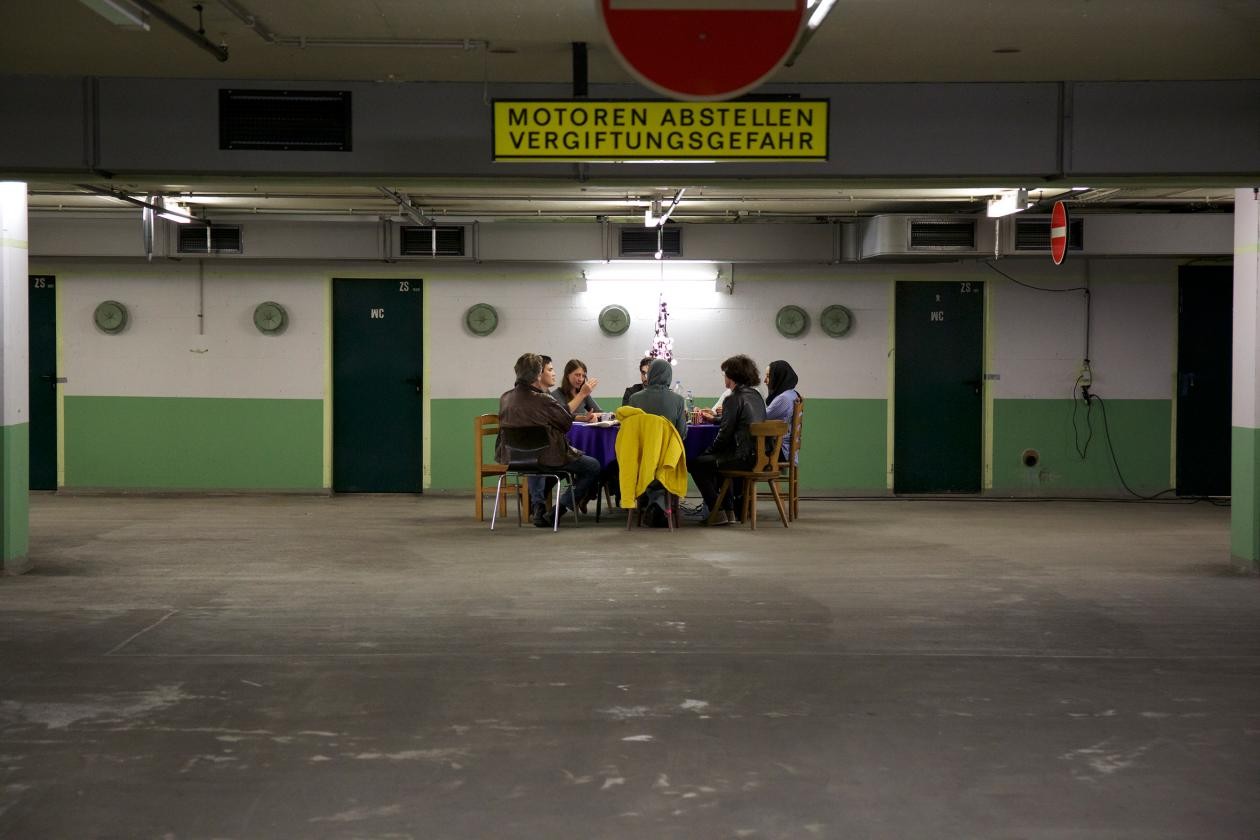 Koki Tanaka, Provisional Studies: Workshop #7 How to live together, and sharing the unknown, 2017, production photo
Commissioned by Skulptur Projekte Münster 2017
Courtesy of the artist, Vitamin Creative Space (Guangzhou), Aoyama Meguro (Tokyo)
KOKI TANAKA
25 August – 11 November 2018

Curated by Heike Munder

How do communities organize the way we live together? That is the question around which the work of the Japanese performance artist Koki Tanaka (b. Tochigi, Japan, 1975) has revolved since the 2011 Fukushima nuclear disaster. He looks for answers by staging participatory actions he documents in photographs and videos. His practice is based on the observation that humans exposed to exceptional situations and the associated disruption of everyday routines coalesce in short-lived micro-communities. A collaborative spirit lets them look to an imaginary ideal state of affairs for guidance; they trust and share more and develop new forms of interaction. Tanaka brings together people of different origin and with a variety of cultural backgrounds and assigns them tasks that allow them to rehearse modes of togetherness. His social studies pinpoint these induced instants of closer cooperation and social reconfiguration as well as the difficulties that arise. Transplanting everyday situations into the art setting turns it into a laboratory in which experiments of societal and ethical thinking as well as action are implemented. His projects often respond to the exhibition venue's local history. The exhibition he has conceived for the Migros Museum für Gegenwartskunst will foreground the engagement with urgent problems facing global society such as immigration, racism, xenophobia, and nationalism—their very omnipresence makes it necessary to continually address these contentious issues from fresh perspectives. A group of people who live in Asia and Europe will examine them in a critical discourse as a form of social research. Documentation of the actions, which will be held in Japan, will be presented in the museum.

The exhibition is curated by Heike Munder, director, Migros Museum für Gegenwartskunst, and is the artist's first solo show in Switzerland. An accompanying monograph will be released by JRP|Ringier during the second half of 2018.

Koki Tanaka lives and works in Kyoto, Japan. His work has been presented around the world, with recent exhibitions at the Kunsthaus Graz (2017), the Deutsche Bank KunstHalle, Berlin (2015), the Van Abbemuseum, Eindhoven (2014), the National Museum of Modern Art, Kyoto and Tokyo (2013), the Museum of Art, Seoul (2013), the Hammer Museum, Los Angeles (2012), the Taipei Contemporary Art Center (2012), Centre A, Vancouver (2010), the Hara Museum of Contemporary Art (2009), the Palais de Tokyo, Paris (2007), and elsewhere. Tanaka officially represented Japan at the 55th Venice Biennale in 2013 and was Deutsche Bank's Artist of the Year in 2015. In 2017, he participated in Skulptur Projekte Münster and the 57th Venice Biennale.