Maja Bajevic
Power, Governance, Labor
20 May - 13 Aug 2017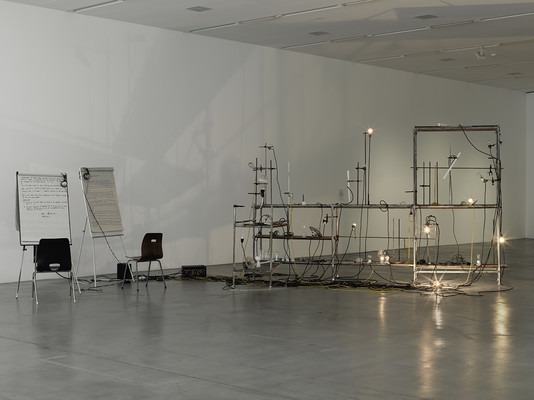 Maja Bajevic: Power, Governance, Labor, exhibition view at Migros Museum für Gegenwartskunst Zürich 2017, photo: Lorenzo Pusteria
MAJA BAJEVIC
Power, Governance, Labor
20 May – 13 August 2017

In a large overview exhibition, the Migros Museum für Gegenwartskunst presents the oeuvre of French-Bosnian artist Maja Bajevic (b. 1967 in Sarajevo, Bosnia-Herzegovina). This exhibition concentrates on works from the last ten years, supplemented by newly produced pieces. Since the mid-1990s, Bajevic has worked on a very wide range of different issues, encompassing globalisation, inclusion/exclusion, exploitation, neo-liberalism and their reciprocal effects. At the same time, Bajevic also repeatedly raises the issue of personal identity and homeland, and how these are constituted or «made impossible». The presentation at the Migros Museum für Gegenwartskunst demonstrates Bajevic's ongoing work on themes like the abuse of power and religion, migration and marginalisation of the foreign, and the tension between local and global, while also positioning her oeuvre within the tradition of art that performs a social, informative function and focuses on changing prevalent convictions.

Maja Bajevic lives and works in Paris and Sarajevo. In recent years, her work has been shown in a number of solo exhibitions at European institutions, e.g. at Daad Galerie in Berlin (2012), Museo Nacional Centro de Arte Reina Sofía in Madrid (2011), Kunsthaus Glarus (2009) and the National Gallery of Bosnia & Herzegovina in Sarajevo (2006). In parallel to this, Bajevic has also been represented in group exhibitions, e.g. at the 56th Venice Biennale «All the World's Futures» (2015), the 4th International Canakkale Biennial in Turkey (2014), the National Museum of Art in Oslo (2014), the 4th Thessaloniki Biennale in Greece (2013), Art Beijing in China (2012), the Museum of Contemporary Canadian Art in Toronto (2011), the Royal Academy of Arts in London (2010) and Zacheta National Gallery of Art in Warsaw (2010).

This exhibition is curated by Raphael Gygax (curator, Migros Museum für Gegenwartskunst). The exhibition is accompanied by a comprehensive JRP|Ringier publication with articles by Barbara Biedermann, Manuel Borja-Villel, Boris Buden, Ana Janevski, and Raphael Gygax.