Ordinary Fantastic
10 May - 09 Jun 2007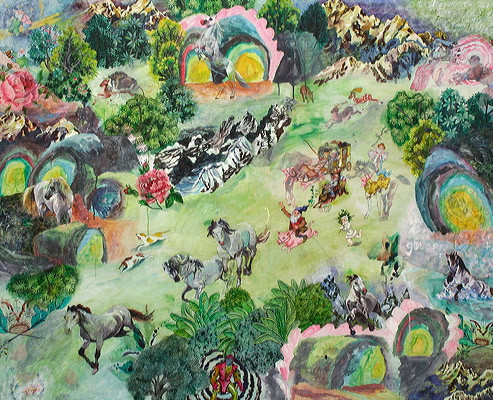 © Hanna Tingsgård
The fear, or the luck, but most of all; don't forget to give my love to Rose, 2007
Acrylic on wood
150 x 122cm
ORDINARY FANTASTIC

May 10 – June 9, 2007
Opening: May 10th, 5-8pm

Participating artists: Trine Boesen (DK), Valerie Hegarty (USA), Candice Lin (USA), Julie Nord (DK), Hanna Tingsgård (SE), Christine Ödlund (SE)

Curator: Liv Stoltz

Milliken is pleased to present a group exhibition entitled Ordinary Fantastic curated by Liv Stoltz. The show features a younger generation of female artists that address our notion of reality. With great diversity they combine ordinary situations with unrealistic and fantastical events that juxtapose nature and civilization, utopia and dystopia, order and chaos, the past and present, and the unconscious and the real. The artists' imagery, technique, sound and choice of media are filled with contrasts that comment on our contemporary life style and severe political state of affairs. Using references of cultural historic heritage: fairytale stories like The Wizard from Oz or Alice in Wonderland, comic book superheroes, Victorian children books, 19th century landscape paintings, old etchings or medieval paintings like Goya's Los Desastros de la Guerra . As artist Candice Lin states:
"In order to bring the viewer into this world I fracture my works' connection to the physical world by making objects and spaces that implement a worn appearance or seem to reference the past."
The works often incorporate motifs that have an air of romantic innocence but possess an underlying violent political or sexual subtext. In this exhibition the viewer might see ideal landscapes of young girls surrounded with butterflies, animals, and flowers colliding with "wild" nature, or maybe uncontrolled psychedelic patterns of mushrooms, sky scrapers, helicopters, mutilated bodies, bats and skeletons.
Charged with latent, sinister and angst-provoking elements Ordinary Fantastic demonstrates how the artists, by using visual contradictions, create a gradual and uncanny transformation in the imagery, the narrative and finally the viewer.