A Tribute To Beatrice And Philip Gersh
16 Oct 2011 - 02 Apr 2012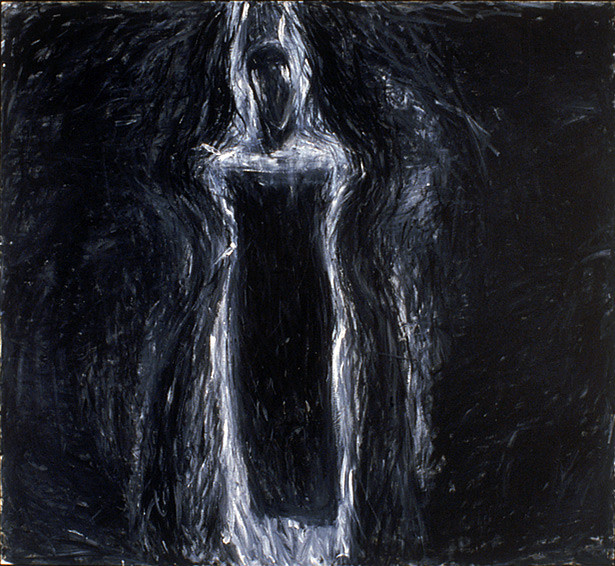 Susan Rothenberg
Black Dress, 1982
Oil on canvas
67 x 73 in.
The Museum of Contemporary Art, Los Angeles Gift of Beatrice and Philip Gersh
A TRIBUTE TO BEATRICE AND PHILIP GERSH
Gifts To The Museum Of Contemporary Art
16 October, 2011 - 2 April, 2012

In memory of MOCA founding member and Life Trustee Beatrice Gersh, MOCA presents A Tribute to Beatrice and Philip Gersh: Gifts to The Museum of Contemporary Art, on view at MOCA Grand Avenue from October 16, 2011, though February 27, 2012. The exhibition features selections from the many important works of art gifted to the museum by the couple. A noted collector and lifelong patron of the arts, Gersh was part of a small group that, in 1979, began the crusade to build The Museum of Contemporary Art in Los Angeles.

"Bea Gersh was a hands-on active committee and board member who worked tirelessly for MOCA from the very beginning," commented MOCA Board Co-Chairs Maria Arena Bell and David G. Johnson. "We are continually grateful for the involvement of Bea and Phil and the entire Gersh family, not only for their gift of great works of art but for their time and energies on MOCA's behalf. She will be sorely missed by all of us."

"MOCA deeply regrets the passing of longtime and beloved friend and museum patron Beatrice Gersh," said MOCA Director Jeffrey Deitch. "Beatrice and Philip Gersh were among the greatest contemporary art patrons and collectors of their generation. They have been among the most generous and important donors to The Museum of Contemporary Art."

Beatrice, a life trustee of the museum, was one of the museum's most important patrons, and beloved by the MOCA community. She was tremendously respected for her remarkable eye and prescient understanding of artistic innovations. The couple gave several extraordinary artworks to the museum, including Cubi III (1961), a stainless steel sculpture by David Smith, Jackson Pollock's seminal painting Number 3, 1948 (1948), and Picture H House (1988), a painting by Edward Ruscha, all of which will be on view for the duration of the exhibition.

Curated by MOCA Chief Curator Paul Schimmel, A Tribute to Beatrice and Philip Gersh: Gifts to The Museum of Contemporary Art will comprise a selection of the 13 sculptures, paintings, mixed media works, and photographs given to the museum by the couple. In addition to the works by Pollock, Ruscha, and Smith, the exhibition will include a steel and wood sculpture by Jannis Kounellis, Susan Rothenberg's Black Dress (1982–1983), Cindy Sherman's photograph Untitled #223 (1990), and Alexis Smith's Story From My Childhood (1977).

In 1989, MOCA presented Selections from the Beatrice and Philip Gersh Collection, an exhibition presenting pieces gifted to the museum by the couple as well as selections from the Gershs's private collection. Airplane Parts, a major sculpture by Nancy Rubins featured in the plaza at MOCA Grand Avenue, was purchased in Beatrice's honor in 2002. She received the first MOCA Distinguished Women in the Arts award in 1994.

"Bea Gersh set a very important example through her support of the museum and its exhibition program and through the exceptional generosity of donating works of art of the highest quality that formed the foundation of MOCA's world-renowned collection of contemporary art," said Schimmel.

A devoted patron of the arts, Beatrice Gersh dedicated her life to enriching the now thriving Los Angeles art community. She and her husband began collecting art in the 1950s and were among the first collectors of modern and contemporary art in Los Angeles. Although she remained dedicated to numerous causes and organizations, perhaps no other institution was so profoundly influenced by her vision than MOCA. As a founding member of the museum, Gersh was one of a handful of people responsible for leading the charge to create MOCA in 1979. Gersh's enthusiasm for art was palpable and she found great joy in sharing her passion with others. She served as a mentor to numerous young collectors, art dealers, and museum curators. In her later years, Gersh remained an influential figure in the Los Angeles art community, attending philanthropic events and making frequent gallery visits.