Dennis Hopper Double Standard
11 Jul - 26 Sep 2010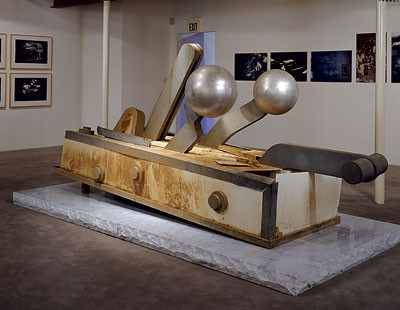 Dennis Hopper
Bomb Drop, 1967-68/2000
Plexiglas, stainless steel and neon
48 x 123 x 48 in
© The Estate of Dennis Hopper, courtesy of The Estate of Dennis Hopper
DENNIS HOPPER DOUBLE STANDARD

Dennis Hopper Double Standard is the first comprehensive survey exhibition of Dennis Hopper's (b. 1936, Dodge City, Kans.) artistic career to be mounted by a North American museum. Best known for his work in film, Hopper has produced an oeuvre of remarkable breadth that blurs the boundaries between art, film, and popular culture. Curated by Julian Schnabel, whose own work has been inspired by Hopper's fusion of art and film, the exhibition will assemble key selections and bodies of work examining the artist's creative development with a focus on artworks made between 1961 and present day, as many of Hopper's earlier paintings were destroyed in his studio by the 1961 Bel Air fire. The exhibition will be organized in several sections reflecting the cyclical and serial nature of the artist's work. The layout will bring together various groupings of work emphasizing Hopper's interest in Duchampian appropriation of common objects and the dialogue between pop and progressive culture. It will also highlight the ways in which Hopper has utilized a range of styles-from abstraction, the ready-made, and pop art to conceptual and performance art-to further his investigation into the "return to the real." Tracing the evolution of Hopper's artistic output, Dennis Hopper Double Standard will feature more than 200 works spanning his prolific 60-year career in a range of media, including an early painting from 1955; photographs, sculpture, and assemblages from the 1960s; paintings from the 1980s and '90s; graffiti-inspired wall constructions and large-scale billboard paintings from the 2000s; his most recent sculptures; and film installations.

Dennis Hopper Double Standard is presented by The Eli and Edythe Broad Foundation.

Major support is provided by The Graff Foundation. Generous support is provided by Tod's, Ruth and Jake Bloom, and Peter M. Brant.

In-kind media support is provided by Ovation and KCRW 89.9 FM.