Emory Douglas
21 Oct 2007 - 24 Feb 2008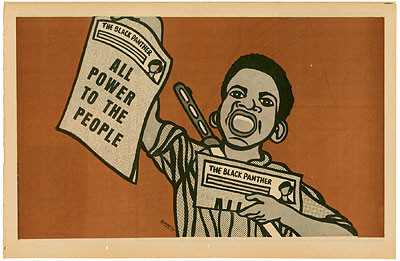 © Emory Douglas
poster from The Black Panther
March 9, 1969
offset lithograph
Collection of Alden and Mary Kimbrough, Los Angeles
EMORY DOUGLAS
"Black Panther: The revolutionary Art of Emory Douglas"

10.21.07 - 02.24.08

Black Panther: The Revolutionary Art of Emory Douglas traces the searing graphic art made by Emory Douglas (b. 1943) while he worked as Minister of Culture for the Black Panther Party from 1967 until its discontinuation in the early 1980s. The Black Panthers cultivated a strong graphic identity for their group and their politics during this period, bringing their concerns to the public through newspapers, posters, and pamphlets that can often be described as angry, militant, and incendiary.
The graphic production of Douglas reveals an unmistakable humanism, representing a populace that had been denied access to the American dream but who were emerging from segregation and proudly fighting to assert their rights to the American dream of equality for all. Douglas's work gave potent visual form to the plight of urban mothers and to the humanitarian work undertaken by the Black Panthers to bring social services to their communities.
The graphic work that Douglas created for print can also be seen within the context of Bay Area visual production from this period, revealing a kinship at times to work by artists such as Peter Saul or R. Crumb, while also serving as a stark antidote to the hedonism embodied in the posters promoting psychedelic rock across the Bay. Relationships to Douglas's iconic works can be seen in contemporary art from the late 1960s to the present in artists as varied as Faith Ringgold, David Hammons, Kerry James Marshall, and Glenn Ligon. The work of Emory Douglas has had a great influence in the popular fields of film and music, with Spike Lee and Public Enemy being among the most visible examples.
At a time when political unrest, war protests, and social inequality have again reached a boiling point, but where artistic responses are not as easy to find, the work of Emory Douglas serves as a powerful reminder of the efficacy of visual art to communicate and push forward a political agenda. Organized by artist and MOCA Ahmanson Curatorial Fellow Sam Durant with MOCA Chief Curator Paul Schimmel, this compelling exhibition presents approximately 150 of Emory Douglas's most influential works. In place of a catalogue, the exhibition will be accompanied by a monographic book on the work of Emory Douglas, edited by Sam Durant and published in February 2007 by Rizzoli.
Black Panther: The Revolutionary Art of Emory Douglas is organized by MOCA Ahmanson Curatorial Fellow Sam Durant for The Museum of Contemporary Art, Los Angeles.
This presentation is made possible by generous support from Catharine and Jeffrey Soros, Janet and Tom Unterman, the Ahmanson Foundation through the Ahmanson Curatorial Fellowship, and Maura and Mark Resnick.
Major support is provided by Alden and Mary Kimbrough and the Center for the Study of Political Graphics.
89.9 KCRW is the Official Media Sponsor of MOCA.