From The Recent Past
13 Mar - 03 Jul 2011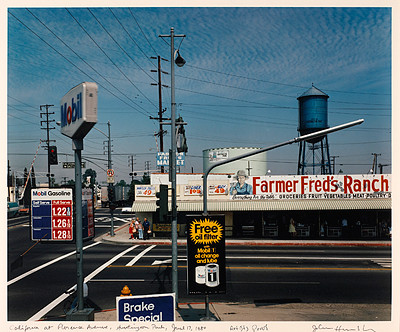 © John Humble
California at Florence Avenue, Huntington Park, June 17, 1980
Dye coupler color photograph
20 x 24 inches
FROM THE RECENT PAST
New Acquisitions
13 March - 3 Juy, 2011

This exhibition highlights 50 artworks in a range of media—video, drawing, photography, sculpture, and painting—recently added through gifts and purchases to the museum's permanent collection. Organized by MOCA Senior Curator Alma Ruiz, the installation features three of MOCA's 2010 acquisitions—pieces by Barry Frydlender, Barnaby Furnas, and Adam Janes—as well as a number of works acquired between 2003 and 2010. Other works include: a work on paper and sculpture by David Thorpe, purchased with funds from the Drawings Committee; seven photos by Chinese artist Guo Yilin donated by Rosette V. Delug; three black and white photographs by VALIE EXPORT, which were included in MOCA's 2007 exhibition WACK! Art and the Feminist Revolution, purchased with funds provided by the Photography Committee; La Nona Ora (2003), a sculpture by Maurizio Cattelan given by Beth Swofford; Autorretrato Ciego (2007–2008), a wall installation by Mexican artist Abraham Cruzvillegas donated by MOCA Trustee Eugenio Lopez; a series of 12 drawings by Romanian artist Ciprian Muresan purchased with funds provided by the Curatorial Discretionary Fund; and a grouping of nine photos by Drew Heitzler gifted by Karyn Kohl.