Index: Conceptualism in California from the Permanent Collection
24 Aug - 15 Dec 2008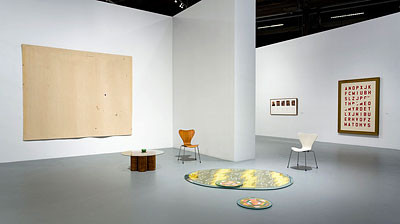 Installation view of Index: Conceptualism in California from the Permanent Collection at The Geffen Contemporary at MOCA, 2008, photo by Brian Forrest
INDEX: CONCEPTUALISM IN CALIFORNIA FROM THE PERMANENT COLLECTION

08.24.08 - 12.15.08

Index: Conceptualism in California from the Permanent Collection draws upon MOCA's substantial holdings of works by artists who have lived and worked in California and have contributed to the international lexicon of conceptual art. Curated by MOCA Curator Philipp Kaiser and Curatorial Assistant and Project Coordinator Corrina Peipon, the exhibition surveys the evolution of conceptual and post-studio practices by highlighting significant individual works alongside multiple works by artists in the collection. Acknowledging California artists' particular contributions to defining and expanding art historical notions of conceptual art, the scope of this exhibition reaches from the proto-conceptual disciplines of artists Wallace Berman and Bruce Conner to the groundbreaking work produced during the mid-1960s, '70s, and into the '80s by artists John Baldessari, Chris Burden, Guy de Cointet, David Ireland, David Lamelas, and Alexis Smith, among others. In recognition of the undeniable legacy of this period in California art, this exhibition also presents post-conceptual explorations by artists that were influenced by the preceding generations. Building upon the dialogue initiated by their mentors, artists Cindy Bernard, Andrea Fraser, Mike Kelley, Mathias Poledna, Stephen Prina, Pae White, and Christopher Williams continually redefine the boundaries of their various mediums and subjects through rigorous scrutiny and serious, though often humorous, analysis.
Index: Conceptualism in California from the Permanent Collection is made possible in part by The Executive Forum Partners: Bank of America; East West Bank; Farmers Insurance Group; Park Fifth; Plaza Commons, Inc.; Resnick Family Foundation, Inc.; and UBS. Additional support is provided by The Mountain.
In-kind media support provided by Los Angeles magazine.