Lisa Lapinski
26 Jun - 25 Aug 2008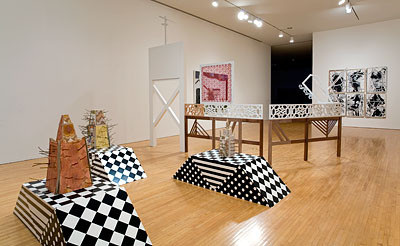 © Lisa Lapinski
installation view of MOCA Focus: Lisa Lapinski, The Fret and its Variants, 2008
installation view
photo by Brian Forrest
LISA LAPINSKI
"The Fret and Its Variants"

06.26.08 - 08.25.08

Lisa Lapinski's (b. 1967, Palo Alto, California) installations merge aesthetic vocabularies—Shaker, modern, and Saharan—with a playfully philosophical sensibility. Utilizing wood, found objects, and wallpaper, among other materials, her work adds questions of syntax, pattern, association, and language to sculpture's traditional spatial and volumetric concerns. Lapinski received her master of fine arts degree from Art Center College of Design in 2000 and has shown in galleries in Los Angeles and Berlin. In 2006, her work was included in the 2006 Whitney Biennial. The ninth installment in the MOCA Focus series, MOCA Focus: Lisa Lapinski is this Los Angeles–based artist's first solo museum exhibition and will feature a combination of new and recent work. The exhibition is accompanied by a fully illustrated catalogue with an essay by MOCA Associate Curator Bennett Simpson.
MOCA Focus: Lisa Lapinski, The Fret and its Variants is made possible by generous endowment support from The Nimoy Fund for New and Emerging Artists, the Fran and Ray Stark Foundation Fund to Support the Work of Emerging Artists, and The Katherine S. Marmor Award.
Major support is also provided by a multi-year grant from The James Irvine Foundation. Additional generous support is provided by The MOCA Contemporaries and David Hockney.