Poetics of the Hadmade
22 Apr - 13 Aug 2007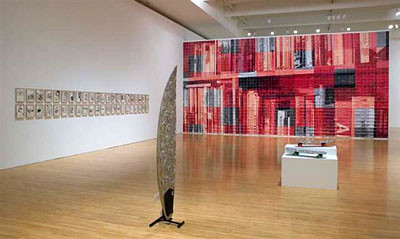 Poetics of the Handmade at MOCA Grand Avenue, 2007, photo by Brian Forres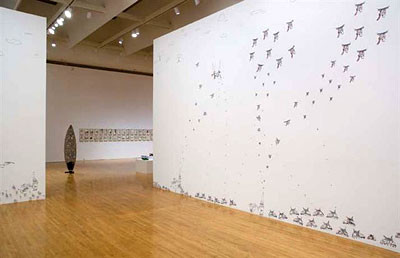 Poetics of the Handmade at MOCA Grand Avenue, 2007, photo by Brian Forres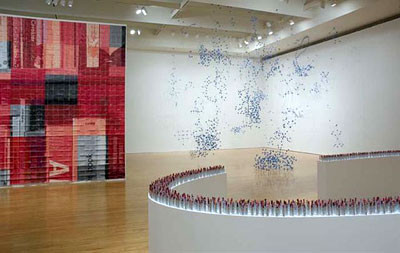 Poetics of the Handmade at MOCA Grand Avenue, 2007, photo by Brian Forres
POETICS OF THE HANDMADE
04.22.07 - 08.13.07

Poetics of the Handmade features a group of artists based in Latin America whose works of art are made by the artists' own hands. While many of the artists, contemporaries tend toward a "post-studio" approach—with assistants producing their work—this group explores the close relationship that exists between a person and his or her craft. The artists, interest in transformation and process has led them to produce works that are painstakingly handcrafted from a wide range of materials. They have found poetry in the depiction of quotidian objects and in the powerful resonance of small actions. Included in the exhibition are Eduardo Abaroa (Mexico), Magdalena Atria (Chile), Mónica Bengoa (Chile), Fernando Bryce (Peru), Darío Escobar (Guatemala), Máximo González (Argentina), Marco Maggi (Uruguay), and Livia Marin (Chile). Presenting widely differing approaches, the eight artists will be represented by large-scale installations and select bodies of work. While Atria, Escobar, and Bryce show recent work, Abaroa, Bengoa, and González present new pieces created for this occasion. Poetics of the Handmade is organized for The Museum of Contemporary Art, Los Angeles, by MOCA Associate Curator Alma Ruiz and accompanied by a fully illustrated catalogue.

Poetics of the Handmade is made possible by generous support from the Jumex Fund for Contemporary Latin American Art, Catharine and Jeffrey Soros, Anonymous, Lois G. Rosen, The MOCA Contemporaries, Carol and David Appel, and Galería kbk.

Generous in-kind support is provided by Tu Ciudad magazine. Additional in-kind support is provided by Skytruck.

Mónica Bengoa acknowledges the Chilean Ministry of Foreign Relations for its contribution to the realization of W, Así lo veo (o el gran cuaderno de instrucciones de uso de un aficionado a clasificar las cosas) (2006-07). Magdalena Atria acknowledges Incubo. Livia Marin acknowledges Fundación Andes.