Rebel
15 May - 23 Jun 2012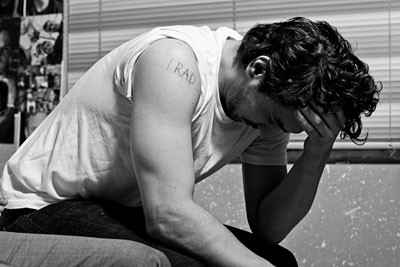 © James Franco
Brad Renfro Forever, 2011
featuring James Franco, Scott Haze, Mark Mahoney and Jim Parrack
projection with sound
26 minutes
photo courtesy of the artist
REBEL
15 May – 23 June 2012

James Franco • Douglas Gordon • Harmony Korine • Damon McCarthy • Paul McCarthy • Terry Richardson • Ed Ruscha • Aaron Young

Rebel is an interrogative ode to Nicholas Ray's masterpiece Rebel Without A Cause (1955), conceived by Franco to embrace and mine the main themes and events in the original film. The exhibition reinterprets the film's legends, the people involved, its place in Hollywood, film as a medium, and behind-the-scenes footage, in a new, fresh, and unconventional presentation of film, video installation, photography, painting, drawing, and sculpture, housed in and framed by iconic, Hollywood structures.

In Rebel, the contributions of each artist are combined to capture the spirit of the original film through references to the auto and motorcycle culture of the 1950s, which James Dean was a part of; teenage angst and issues of identity back then, related to identity now; patrilineal exchange, and the relationships of father and son, and mentor and student; male and female sexuality; fiction and fact; and Hollywood and the art world. The Chateau Marmont is one of the central points in Rebel, and perhaps the single most significant reference and home to Hollywood behind the scenes life, acting as a linking structure to the exhibition, and to several of the works presented.