Robert Frank
14 Jun - 19 Oct 2009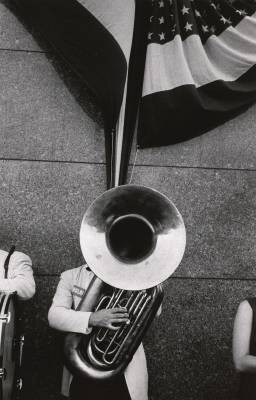 © Robert Frank
Political Rally - Chicago, 1956
Gelatin silver print
14 x 11 in. (35.6 x 27.9 cm) Image: 11 1/2 x 7 1/4 in. (29.2 x 18.4 cm)
The Museum of Contemporary Art, Los Angeles The Ralph M. Parsons Foundation
From the Permanent Collection:

ROBERT FRANK'S
"The Americans"

06.14.09 - 10.19.09

In 1955, the Swiss-born photographer Robert Frank won a John Simon Guggenheim Memorial Foundation grant to photograph American people and places. For two years, Frank traveled by car throughout the United States, amassing over 20,000 negatives. The edited portfolio of 83 photographs was published in book form as Les Amйricains by Robert Delpire in France in 1958, and as The Americans in 1959 by Grove Press in New York. The American edition included an introduction by Jack Kerouac, the Beat writer most famous for his novel On the Road. Describing the emotional scope of Frank's portfolio, Kerouac wrote: "After seeing these pictures you end up finally not knowing whether a jukebox is sadder than a coffin." Frank's photographs, which have become landmarks in the history of photography, were created with a hand-held Leica camera, often with a wide-angle lens, resulting in compositions that appear unplanned, spontaneous, and are ultimately revealing. In this 50th anniversary year of its publication, MOCA presents a rare showing of the complete set of photographs comprising The Americans, in the order carefully devised by Frank for the book. MOCA's portfolio, which is the only complete set on the West coast, was purchased in 1995 with funds provided by Ralph M. Parsons Foundation. From the Permanent Collection: Robert Frank's "The Americans" was initiated by Rebecca Morse and Corrina Peipon.
From the Permanent Collection: Robert Frank's "The Americans" is presented by The Broad Foundation. The exhibition is made possible by endowment support from The Max Yavno Fund.