Ryan Trecartin
18 Jul - 17 Oct 2010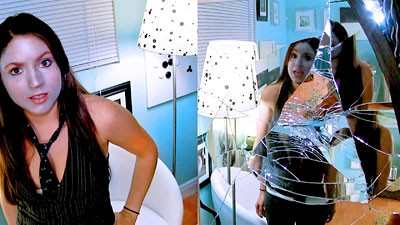 © Ryan Trecartin
The Re'Search (Re'Search Wait'S), 2009-2010
HD video
duration 40 min., 9 sec.
courtesy of the artist and Elizabeth Dee, New York
RYAN TRECARTIN
"Any Ever"

July 18 - October 17, 2010

Any Ever is the American premiere of the artist Ryan Trecartin's (b. 1981, Webster, Tex.) 2007-10 body of work, produced in Miami with collaborator Lizzie Fitch and contributors ranging from friends and artists to working child actors. The entire exhibition space will be devoted to the non-sequential series of seven movies, which are structurally conceived as a diptych consisting of a trilogy, Trill-ogy Comp (2009), and a quartet, Re'Search Wait'S (2009-10). The movies are interconnected spatially via networked viewing rooms and an ambient soundscape, and materially by characters, semblances of plot, and formal, recurring motifs. Having emerged from the 2000s as an innovator of ecstatic new frontiers in art and cinema, the influence of Trecartin's practice has grown within the art world and among a broader, intergenerational set of thinkers and cultural consumers. Consistent with his work to date, this latest series mines emergent evolutions of identity, narrative, language, and visual culture for content and propels these matters forward as expressive mediums, through darkly jubilant and categorically frenetic formal experimentations. Any Ever at MOCA is the exhibition's first American presentation on an international tour that began at The Power Plant in Toronto, Canada (March 2010). It will continue to the Museum of Contemporary Art, North Miami, FL, (2011) before traveling to further international venues. In 2011, Trecartin will also be the subject of solo exhibitions at MoMA PS1, Long Island City, NY, and the Musee d'Art modern de la Ville de Paris, France. Forthcoming print and digital catalogues will be the first publications uniquely dedicated to Trecartin's work and will reflect the entirety of his practice to date.

Any Ever is made possible by endowment support from The Nimoy Fund for New and Emerging Artists. In-kind support is provided by Dwell. Generous support for MOCA Pacific Design Center is provided by Charles S. Cohen.