The Artist's Museum
31 Oct 2010 - 31 Jan 2011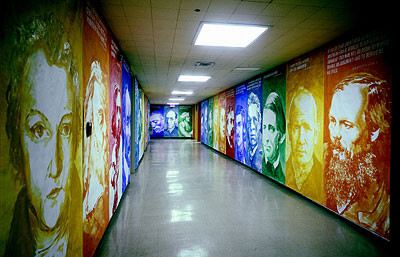 © Mike Kelley
Pay for Your Pleasure, 1988
oil on Tyvek
installation: 9 x 12 x 82 ft., each (42 banners at approximately): 101 x 47 in.
collection The Museum of Contemporary Art, Los Angeles, gift of Timothy P. and Suzette L. Flood
THE ARTIST'S MUSEUM

October 31, 2010-January 31, 2011

MOCA Grand Avenue and The Geffen Contemporary at MOCA

The Artist's Museum showcases works by 146 artists who have helped shape the artistic dialogue in Los Angeles since the founding of MOCA over 30 years ago. Based on MOCA's world-renowned permanent collection, supplemented by key loans from local collectors and artists, this special presentation features over 250 works, including a number of new projects made especially for this occasion. Representing the diversity and uniqueness of the Los Angeles community, the exhibition highlights important works from legendary L.A. artists who remain vital and influential alongside those emerging from renowned local art schools, visionary artists associated with various street cultures and subcultures, and crossover artists connected to performance, music, and film. The Artist's Museum marks the MOCA premiere of Doug Aitken's electric earth (1999), a hyperkinetic fable of modern life in the form of an eight-channel video installation; and also includes work by artist Robbie Conal; Thomas Houseago's monumental sculpture Sprawling Octopus Man (2009), a new acquisition; Mike Kelley's large-scale installation Pay for Your Pleasure (1999); an installation by Amanda Ross-Ho based on Double Tragedy Wall (2007) from MOCA's collection; and a performance by Vaginal Davis. Jim Isermann created a site-specific installation for the Eli and Edythe L. Broad Reception Hall at MOCA Grand Avenue, and artist Pae White designed the graphic identity for the exhibition. Organized for MOCA by Associate Curator Rebecca Morse, in collaboration with a curatorial team that includes Director Jeffrey Deitch, Director of Publications Lisa Gabrielle Mark, Curator Alma Ruiz, and Curator Bennett Simpson, the exhibition expands on a collection show originally conceived by Chief Curator Paul Schimmel, that considered the work of Los Angeles artists in a local context, following Collection: MOCA's First Thirty Years, which presented Los Angeles artists in an international context.

THE ARTIST'S MUSEUM VIDEO SERIES
In conjunction with the exhibition, The Artist's Museum video series looks at eight significant artists who have produced some of the finest contemporary works in Los Angeles from 1980 to present day. Structured as extended studio visits, these videos capture each artists' creative process and motivations, developing a rich narrative on the vitality of the Los Angeles artist community.

Watch the Artist's Museum video series on The Curve.

The Artist's Museum is made possible by The Eli and Edythe Broad Foundation.

The exhibition is generously supported by Mandy and Cliff Einstein.

Major support is provided by the Sydney Irmas Exhibition Endowment.

Generous additional support is provided by BCBGMAXAZRIAGROUP. In-kind media support is provided by Ovation and Los Angeles magazine.