Thomas Hirschhorn and Roxy Paine
26 Jul - 29 Oct 2007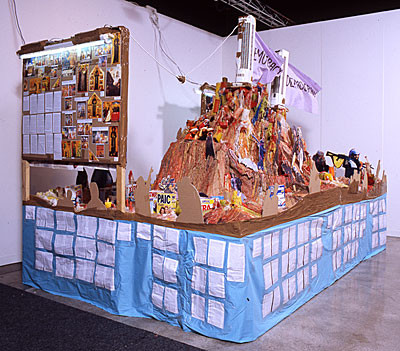 Thomas Hirschhorn
Non-Lieux
2002
Cardboard, wood, candles, glass, paper, lights, and electric train
112 x 100 x 163 in.
The Museum of Contemporary Art, Los Angeles, purchased with funds provided by the Acquisition and Collection Committee
THOMAS HIRSCHHORN AND ROXY PAINE
SELECTIONS FROM THE COLLECTION
07.26.07 - 10.29.07

Thomas Hirschhorn and Roxy Paine: Selections from the Permanent Collection presents two important installations from MOCA's permanent collection that investigate destructive forces associated with contemporary life and art.

Non-Lieux (2002), created by Swiss artist Thomas Hirschhorn, is a complex landscape that addresses the often-conflicting inter-relationships of social, cultural, political, and religious value systems. Produced shortly after the attack on the World Trade Center towers, this tableau, whose title was inspired by Robert Smithson's non-sites, is constructed primarily from "low" materials, such as paper, wax, and packing tape. Like many of Smithson's non-sites, Non-Lieux is an abstract three-dimensional metaphor for an absent, blighted site. However, unlike Smithson's sculptures, which represent specific locations through collections of real materials, Hirschhorn's ravaged landscape is clearly metaphorical. Boxes of cleaning supplies stand in for buildings; paper flags proclaiming "Democracy" top mountains that are constructed from cardboard and candle wax; and the track of a functioning electric train, upon which "connecting people" is inscribed, links a landscape that is populated by cutout silhouettes of Afghani soldiers surrounded by pictures of glamorous Western women taken from popular cultural sources. Surrounding this juxtaposition of products, images, and references to world events are Xeroxed pages of a utopian essay titled "Empire," in a seeming critique of the kind of nation-building that results in a surreal and unstable terrain suggestive of political and social deterioration.

Similarly, Roxy Paine's hyper-realistic natural environment, Weed Choked Garden (2005) observes the clash of competing systems, in this case the natural versus the manmade. On an eight-by-eleven-foot table, an exquisitely hand-crafted vegetable garden features 13 different species of weeds that encroach upon a crop of late-season vegetables. Evoking a multiplicity of universal themes, including the cycle of life and death, the destructive forces of both man and nature, as well as the struggle between the natural and the artificial, this work questions the fragility of life within the context of a seemingly inevitable decay and collapse. Over five years in the making, the intense realism of Weed Choked Garden, combined with its scale and complexity, represents a tour de force in trompe l'oeil sculptural installations.