At Capacity
18 Mar - 05 Jun 2011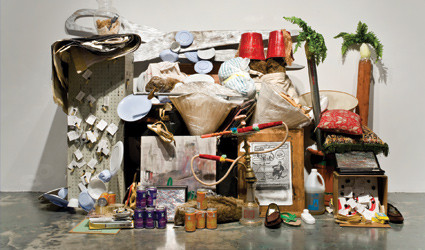 Jason Rhoades
More Moor Morals and Morass, 1994
Mixed media, dimensions variable
Collection of the Museum of Contemporary Art, North Miami. Gift of Eileen and Peter Norton
AT CAPACITY: LARGE-SCALE WORKS FROM THE PERMANENT COLLECTION
18 March - 5 June, 2011
Celebrate the 15TH Anniversary of MOCA's Joan Lehman Building

Fifteen years ago, the Museum of Contemporary Art (MOCA) inaugurated its Joan Lehman building as a collecting institution. Thanks to the outstanding generosity of local and international collectors and patrons to MOCA's acquisition fund, the current museum facility is "at capacity." In addition to its growth in size -- now over 600 works -- the collection's impressive monumental works and installations have become one of the museum's hallmarks. MOCA will feature a selection of these works by John Baldessari, Dara Friedman, Thomas Hirschhorn, Jene Highstein, Edward and Nancy Kienholz, Louise Nevelson, Dennis Oppenheim, Jack Pierson, Ragnar Kjartansson, and others in the exhibition At Capacity: Large-Scale Works from the Permanent Collection, on view from March 18 – June 5, 2011. This selection is just a taste of the museum's holdings, which will occupy the new 16,000 square-foot permanent collection galleries of MOCA's expansion.