Pivot Points I: Defining Moca's Collection
26 Mar - 11 May 2008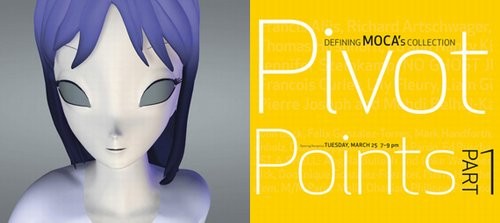 © Pierre Hugyhe
Two Minutes out of Time - Ann Lee, 2000 (detail) Video with sound, 4 min 09 sec, edition of 4+1 AP; edition AP1 (from No Ghost Just a Shell). Collection of Museum of Contemporary Art, North Miami and the American Fund for the Tate Gallery. Gift of Rosa and Carlos de la Cruz, 2007.
PIVOT POINTS I: Defining MOCA's Collection

MARCH 26, 2008 through MAY 11, 2008

Image Cedit:

Since 1995, the Museum of Contemporary Art, North Miami has been developing a collection of pivotal works by international contemporary artists. MOCA's focused approach to collecting concentrates on works connected by concepts and methodology, as opposed to chronology, style or medium. On view in the Pivot Points series of exhibitions are works from MOCA's permanent collection that mark important moments in the development of the artists' work and turning points in contemporary art. Each work contributed to the development of the museum's collection and is essential in establishing the direction for its continued growth. Pivot Points I: Defining MOCA's Collection will be on view at MOCA's Joan Lehman Building, 770 NE 125th Street, North Miami, from March 26 – May 11, 2008. Part II / New Mythologies will open at the museum's satellite gallery, MOCA at Goldman Warehouse, 404 NW 26th Street, Wynwood, on April 12 and will be on view through June 28.
Pivot Points I will be the first time that the landmark gift to the collection No Ghost Just a Shell will be exhibited at MOCA. The collaborative multi-media project originated by Pierre Huyghe and Phillipe Parreno is comprised of 17 works by international artists, all based on a Japanese Manga character named Annlee. This project was jointly donated to MOCA and Tate, London in 2007 by Rosa and Carlos de la Cruz, and is considered to be a seminal work for the 21st century that marks a shift in the ways artists work. Bonnie Clearwater, MOCA executive director and chief curator, notes, "No Ghost Just a Shell is essential to defining MOCA's collecting approach. The work raises critical questions about authorship, the shifting relationship between the artist, the artwork and the viewer, and the open-endedness of the meaning and function of the work itself."
The exhibition pivots around this project with earlier acquisitions that helped define MOCA's collection, such as: Ed Ruscha's books produced in the 1960s and 1970s (the first gift to the museum, donated by Miami artist Skip van Cel); Jennifer Steinkamp's pioneering video projection, Smokescreen (commissioned by MOCA in 1994, gift of the artist); Miami artist Mark Handforth's untitled (lovelight), (1999, museum purchase); Dennis Oppenheim's Attempt to Raise Hell (1974, partial gift of the Oppenheim Foundation and Museum Purchase and Gift of Dennis and Debra Scholl); Jorge Pardo Round Light, Dark on the Bottom (1997, gift of Rosa and Carlos de la Cruz); and Francis Alÿs's Sin Titulo (untitled,) (1995, museum purchase with funds provided by Janet and Robert Liebowitz and the Jacques and Natasha Gelman Foundation).
Also being shown for the first time at MOCA is Diorama, (1997) a large-scale, multi-media installation by the renowned Swiss artist, Thomas Hirschhorn that was donated by the Martin Z. Margulies Foundation. Measuring 60-feet in length and made of cardboard, packaging tape, color foil, color reproductions, video, and other detritus, Diorama looks like a didactic display case for a natural-history museum that links widely disparate subjects from ancient times, modern art, and science fiction.
Zero Hero, (2003), a sprawling, multi-media installation by the celebrated German artist John Bock makes its first MOCA appearance in Pivot Points. Zero Hero is an extensive project with multiple iterations that combine elements of performance, installation and video. First performed in Munich in 2003 and then at the 51st Venice Biennale in 2005, the work was shown in Miami in 2006 during Art Basel Miami Beach at The Moore Space Loft. In it, Bock creates his own interpretation of the uncanny life of Kaspar Hauser, a teenage boy who mysteriously appeared on the streets of Nuremberg, Germany in 1828 after years of sensory deprivation. Zero Hero was jointly donated to MOCA and Tate by Rosa and Carlos de la Cruz.
The major large-scale installation Soup Course at the She-She Café by California artists Ed and Nancy Kienholz, (1982), recently donated by MOCA's chairman Irma Braman, provides an important precedent for much of the installation and narrative works in MOCA's collection.
Much of MOCA's collection reflects the museum's exhibition history since its 1996 inaugural exhibition, Defining the Nineties: Consensus-Making in New York, Miami, and Los Angeles. Felix Gonzalez-Torres, who died just prior to the opening of the exhibition, was key to the premise of Defining the Nineties, and his sculpture, Untitled (Ross in L.A), (1991) was donated to MOCA by Rosa and Carlos de la Cruz in the artist's memory. Richard Artschwager was included in the second major thematic exhibition organized by MOCA in 1996, Painting into Photography/Photography into Painting, and was the subject of a retrospective organized by MOCA in 2003. Artschwager's Untitled, (1995, promised gift of Evelyn Aimis) is a rare, fully composed drawing of a house and its reflection in a lake.
Pivot Points II: Defining MOCA's Collection/New Mythologies will be on view MOCA at Goldman Warehouse April 12 – June 28, 2008.