Madhat Kakei
28 Nov 2015 - 28 Feb 2016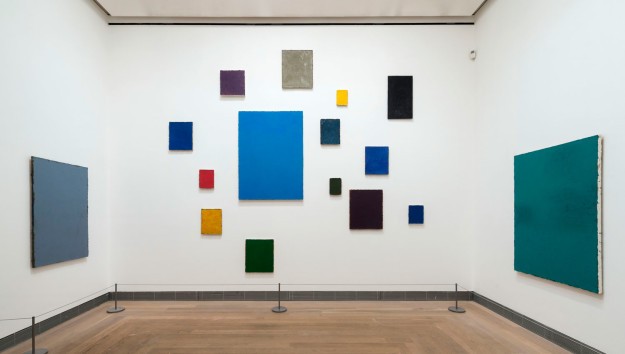 Installation view Madhat Kakei's abstract cabinett
Photo: Åsa Lundén/Moderna Museet
© Madhat Kakei / Bildupphovsrätt 2016
MADHAT KAKEI
Moment – Madhat Kakei's Abstract Cabinett
28 November 2015 – 28 February 2016

Curator: Daniel Birnbaum

"Shade is not the sun's opposite / Shade is the second light", writes the Syrian poet Adonis in his homage to the artist Madhat Kakei, who has devoted decades to painting layer upon layer of light and shadow to create a poetic universe that combines Western concepts of monochrome painting with totally different abstract traditions. Kakei was born in Iraq in 1954, studied art in Bagdad and Madrid, and moved to Sweden in the mid-1980s.

The non-figurative, abstract image is not a modernist invention. The prohibition of figuration and the notion that it is impossible to depict the almighty are based on much older philosophical and religious ancestry. But a hundred and a few years ago, Kazimir Malevich's black square appeared for the first time. A century later, painters all over the world revisit this non-figurative square and extract new meanings from the abstract image.

In Madhat Kakei's abstract cabinet Moderna Museet presents a large number of works by this Kurdish-Swedish painter who deserves more recognition, alongside a few seminal contemporary artists who have found other roads to abstraction: Etel Adnan, Joe Bradley, Günther Förg, Martin Kippenberger, Jutta Koether, Wolfgang Tillmans, Sophie Tottie, Rosemarie Trockel, and Fredrik Vaerslev.