Objects and Bodies at Rest and in Motion
26 Sep 2015 - 07 Feb 2016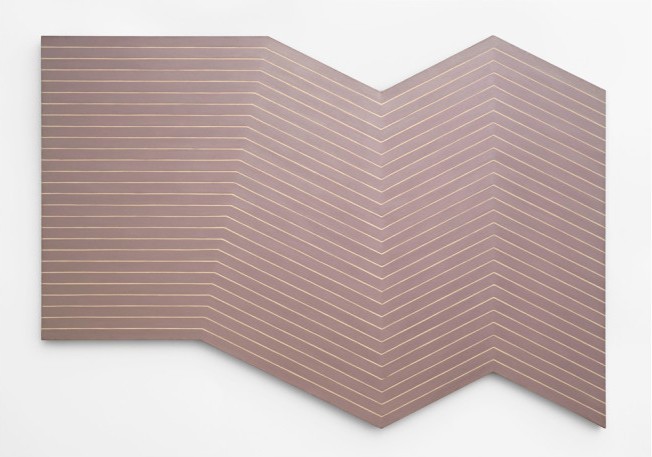 Frank Stella
Claroquesi, 1964
Photo: Albin Dahlström/Moderna Museet
© Frank Stella Bildupphovsrätt 2015
OBJECTS AND BODIES AT REST AND IN MOTION
26 September 2015 – 7 February 2016

Curator: Magnus af Petersens
Co-curator: Andreas Nilsson

Moderna Museet Malmö is presenting a comprehensive exhibition featuring a network of artists and choreographers who were active in New York in the 1960s and 70s. Objects and Bodies at Rest and in Motion focuses on the tension and relationship between the human body and solid objects.
Objects and Bodies at Rest and in Motion presents some thirty works selected from the Moderna Museet collection as well as external loans in the museum's Turbine Hall, with works by minimalists and post-minimalists such as Donald Judd, Carl Andre and Richard Tuttle, many of which have never been shown before in the Öresund Region. The minimalists' work has been described as "theatrical" and "scenic," meaning that each piece is a non-illusionistic object that shares the gallery space with the viewer—instead of functioning like a window onto another world. Viewers become actors on a stage in which the artwork serves as a kind of prop or architectural frame.
The relationship between the human body and the solid object is clarified by innovative choreographers such as Simone Forti, Yvonne Rainer, and Trisha Brown who worked with many of the same artistic issues as their contemporaries in the visual arts. Artists such as Richard Tuttle and Eva Hesse also explored the relationship between body and object, but without the cold rationalism often associated with minimalism. Tuttle's Paper Octagonal, for example, is a piece whose dimensions are related to the artist's own body, and in Franz Erhard Walther's work the focus is on the relationship between the viewer's body and the artist's fabric objects.
"What happened in art and dance during a few years in the sixties fundamentally changed the relationship between viewer and artwork. Instead of standing outside and looking in, the viewer became a participant—and therefore a co-creator. This is the explosive political force hidden behind polished abstract surfaces. Frank Stella got it wrong: what you see is not just what you see!" Magnus af Petersens, curator
The exhibition includes works by:
Carl Andre, Jo Baer, Trisha Brown, Eva Hesse, Dan Flavin, Simone Forti, Donald Judd, Ellsworth Kelly, Sol LeWitt, Walter De Maria, Agnes Martin, Bruce Nauman, Yvonne Rainer, Joel Shapiro, Frank Stella, Richard Tuttle, Franz Erhard Walther, and Hannah Wilke.